Drive By Shootings – Another poisonous by product of multi-culturalism
Aya Hachem was a 19 year old Labanese law student, living in Blackburn, studying at Salford University. Aya Hachem and her parents were refugees and practicing Moslems, but that did not prevent her being shot dead in a fued between rival Pakistani immigrant business men.
To be fair to Aya Hachem, she was not the target of the shooting but was an innocent by-stander hit by a stray bullet.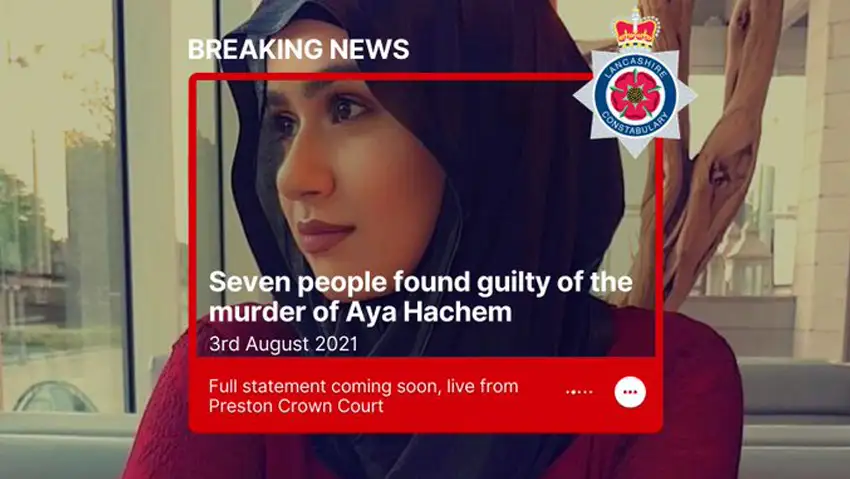 This murder by shooting in broad daylight did not happen in some inner city in the USA; this killing did not take place on the streets of the Bronx, or Chicago or south-side Los Angeles No this happened on the streets of Blackburn, Lancashire.
How often do the liberal minded media remind the White British public that one of the benefits of a multi-cultural society is the "enrichment" new customs and cultures bring to Britain and British society.
This shooting was the result of a business dispute in the local Asian community, a turf war between RI Tyres and Quickshire Tyres and car-wash. Feroz Suleman owner of RI Tyres suffered an arson attack on his premises in December 2019, which he suspected was the work of Pachah Khan, owner of Quickshine.
Note: people in the North of England will be familiar with similar arson attacks between rival Asian taxi firms, where disputes usually result in the fire bombing of vehicles or taxi offices.
Nothing "racist" of course, just imported business practices from the Indian sub-continent and the Middle East, so the media and the local authorities usually play these incidents down and do not make them widely known.
So back to Blackburn; Feroz Suleman decided to punish his rivals and in May 2020 together with his friend Ayaz Hussain recruited Zamir Raja to kill Pachah Khan.
The drive-by shooting took place on May 17th 2020 in broad daylight, a Toyota Avensis driven by Anthony Ennis (ethnic origins unknown) while the hitman Zamir Raja opened fire on the premises of Quickshire Tyres, missing his intended target and hitting the passing figure of Aya Hachem.
As is so often the case in such situations, the investigation by Lancashire police had an up-hill struggle to identify those involved in the killing and the usual 'wall of silence' where disputes within ethnic minority communities are concerned.
Eventually eight co-conspirators were brought to trial charged with murder, which they routinely denied, and half through the 10 weeks of court room evidence, eventually the hit-men, Raja and Hussain offered to plead guilty to manslaughter. After all the killing of the 19 year old student was accidental, they meant to kill Pachah Khan. But the Crown Presecutor refused to accept the change of plea.
So at Preston Crown Court seven of the defendants were convicted and on August 5th 2021 were duly sentenced to life imprisonment with extended terms, with defendant Uthman Satia's girlfiend, Judy Chapman being convicted of manslaughter for assisting in the conspiracy and destroying evidence.
In all the murder and the trial has demonstrated once more that a multi-cultural society does not enrich the British way of life.