This weekend looked like a return to the bad old days of 'Gunchester' when the drug gangs of Hulme, Moss Side and Gooch Close (in Manchester) were in the headlines.
Over the weekend of Friday July 8th and Saturday July 9th 2022, in what was described by the Manchester Evening News as "Bloody Nights of Violence Across Greater Manchester", there were two shootings and two double stabbings spread across Salford, Cheetham Hill and Oldham.
Friday: –
Kersal, Bury New Road, two men were found in a car after being stabbed by a "group of men armed with weapons."
Cheetham Hill, armed police sent to Halliwell Street in response to shots being fired, no apparent casualties, but evidence of a gun being 'discharged.'
In Oldham on Broadbent Street, armed police were called when two shotgun blasts were fired at a man in a car sitting in his car. This was at 6pm in the evening and is an ongoing GMP investigation.
Saturday: –
Didsbury, Parrs Wood Road, on Saturday afternoon two men taken to hospital suffering from serious knife wounds and local streets were closed off by police. At the time of writing, (Sunday 9th) the weekend is not over and there is scope for more similar reports.
Meanwhile the usual forces for multiculturalism and 'racial justice' are working hard to overturn the sentences on four 19-year-old black teenagers imprisoned last week at Preston Crown Court for their part in a violent conspiracy. A demand for "justice" is being led by the usual activist elements, including the so-called 'Kids of Color' (note the American spelling) youth justice organisation.
The four were part of a group of ten black young men from the Moston, district of north Manchester who set out to avenge the murder of their friend, 16-year-old Alexander John Soyoye in November 2020.
John Soyoye had been killed in a machete attack by members of the 'RTD' gangs of black youths and was stabbed 15 times. He was involved in the drill music scene in Manchester. In court Soyoye was described as an "up and coming rapper", even though he was only 16 years of age, and performed in drill music under the name 'MD'.
The appeal on behalf of the four, Ademola Adedeji, Raymond Savi, Azim Okunola and Omolade Okoya, is based on the defence claim that they only took part in an online chat group and text messages calling for violent retaliation against the killers of John Soyoye, they were also said to have helped to locate and identify persons to be attacked, apparently connected to the 'M40 drill music collective' (whatever that might be).
Unfortunately the four above were part of the larger group who were jailed for over 20 years last week, found guilty on charges of conspiracy to commit murder or conspiracy to commit grievous bodily harm. Four of these men had carried out violent attacks on their opponents but went on to boast about it in online rap lyrics!
The appeal defence of the four 19-year-olds from Moston is that they did not actually take part in the revenge attacks but just talked about it in text messages and on Telegram sites. The jury that convicted these young men were obviously ignorant of the importance of rap lyrics and 'drill' music imagery in black youth culture.
Perhaps 'cultural sensitivity' should be a requirement for jury service in such cases.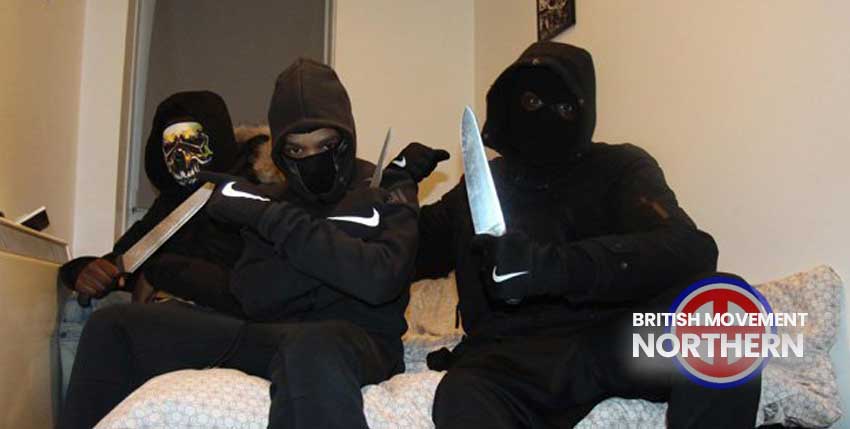 ---
The British Movement would love to receive articles for possible inclusion on this site from members and supporters across the North of England. Please remember that we have to operate within the laws of this country – we will not include any content that is against the current laws of the United Kingdom. News reports should be topical and be relevant to the regions covered by this website.