The Batley & Spen by-election is over. The hacks have moved on to the next story. The left/anarchist rent-a-mobs have gone back to their middle class homes or university digs and the candidates can only reflect on how and why they weren't welcomed with open arms by the voters in this working-class West Yorkshire town.
The newly-elected MP, Kim Leadbeater, the lesbian sister of the murdered MP Jo Cox, has taken her seat in the Commons after Labour narrowly held the constituency. Ms Leadbeater won by a mere 323 more votes than her nearest rival.
In her acceptance speech on stage in Huddersfield, Leadbeater said she was "absolutely delighted that the people of Batley and Spen have rejected division and they've voted for hope".
Just how the people of Batley and Spen feel about 'division and hope' was shown in full at Leeds Crown Court last week after the sentencing of six Asian men found guilty of the murder of 20 year old Bradley Gledhill and the stabbing of his two friends. Having been found guilty on June 3rd, the murderers were remanded for reports. All were subsequently given life sentences.

Four of the six were also sentenced for the attempted murder of another man, with one of those men also sentenced for a Section 18 assault on the other of the three victims.
The actual assault happened at Park Croft in Batley on 21 June 2020. The court heard that 20-year-old Bradley and his two friends came across their attackers by chance, with no evidence existing to suggest a meeting had been planned or of there being any prior contact between the two groups.
They were then viciously attacked by the six Pakistani men with all three victims receiving significant knife injuries. Police and paramedics attended, but despite treatment including first aid from residents, Bradley did not survive the attack.
Detective Chief Inspector Vanessa Rolfe, of the Homicide and Major Enquiry Team, said:
"This was a horrific offence in which a 20-year-old male has lost his life following an outbreak of violence in which knives were used… All three victims were seriously injured, with Bradley paying the ultimate price in an incident which vividly demonstrates the dreadful human cost of knife crime… Those involved continued to attack Bradley even after he had been wounded and was laid defenceless on the floor. We welcome the sentences imposed on them today for their roles in the joint enterprise murder of a male who, at 20-years old, had his whole life ahead of him."
She then went on to state:
"The victims did nothing to provoke the horrendous attack on them, and officers left no stone unturned to identify and arrest those responsible for this senseless act of violence…. Our thoughts are with Bradley's parents, family and the other victims in this case".
An audio clip played in Leeds Crown Court heard a conversation between three of the group bragging about the killing. The conversation revolved around the fact that they stabbed him and killed him and the fact that they needed to get rid of Bradley's phone.
They suggest burning it or putting it down a drain to stop it being tracked by police. The clip also heard them bragging about the kicking and stabbing and the amount of blood that was generated.
CCTV footage even captured the moment that one of the defendants put Bradley's phone down a drain where it was later recovered by officers and found to have Bradley's blood on it. Burnt clothing was also found and linked to the defendants.
Bradley was taken to Leeds General Infirmary but was pronounced dead at 11.18pm. He had three stab wounds, including one in the heart. His body also showed signs of bruising and abrasions "consistent with the the attack carried out on him and portrayed on CCTV".
All six of the defendants would later go on to deny murder, leading to a trial that lasted several weeks at Leeds Crown Court and causing more pain and heartache for Bradley's heartbroken family.
However, despite their plea, all six were found guilty of murder by the jury following the trial. They were jailed for a total of 81 years for their parts in the killing.
Mr Justice Kerr even took a rare step and identified two defendants, who were only 16-years-old at the time of the murder, in a move that shows just how brutal and callous these killings were.
This horrific racial murder has many similarities with the killing of Gavin Hopley 19 years ago. Gavin was beaten to death in Oldham in February 2002. Five Asian men were convicted of violent disorder and a sixth man for theft but no one was convicted of killing him. An innocent young white lad and his friends in an area of his own town confronted by a larger group of Asian males demanding to know what he was doing in 'their area'.
We would have thought that the new MP for the area would have at least condemned this vicious murder and the attempted murder of Bradley's two friends. But no, the silence is deafening. Where is the media outrage, the political uproar and the endless parade of footballers, racing drivers, politicians and celebrities desperate to jump on the bandwagon and stand up in support of the victims of racial violence?
The obvious and only conclusion is that in the world of the self-obsessed, the liberal hand-wringers and the marxist fellow-travellers who infest the media, politics and the establishment, White Lives Don't Matter.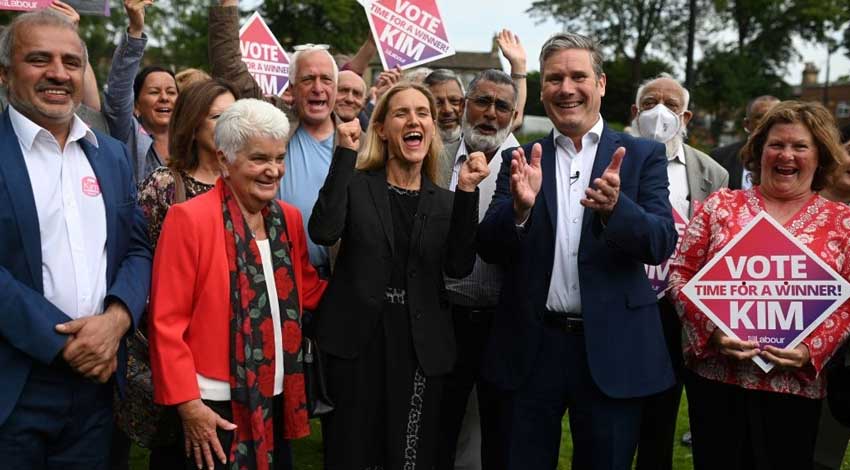 SENTENCES
Usman Karolia, 20, from Batley, who was sentenced to life with a minimum 21 years to serve in prison for the murder of Bradley, 18 years for attempted murder and five years for Section 18 assault.
Ahmed Karolia, 24, from Batley who was sentenced to life with a minimum 16 years in prison for murder and 14 years for attempted murder.
Nabeel Naseer, 18, from Dewsbury who was sentenced to life with a minimum 11 years in prison for murder and eight years for attempted murder.
Raja Nawaz, 19, from Heckmondwike who was sentenced to life with a minimum 12 in prison years for murder.
Irfan Hussain, 17, from Batley, was sentenced to life with a minimum 11 years for murder and 10 years for attempted murder.
Nikash Hussain, 17, from Dewsbury was sentenced to life with a minimum 10 years to serve for murder.
"You thought nothing of killing him in the open air, in the street, in public".

Mr Justice Kerr
---
A FINAL WORD ON THE BATLEY & SPEN ELECTION
Batley and Spen is part of the ever growing number of constituencies (the majority in England) that are like a racial powder keg. The pro-Brexit, White working class have been abandoned, an embarrassment to the tory/lab/lib establishment politicians.
The immigrant 'community', have long been courted by the Labour Party, which needs their votes to replace the working class voters who have abandoned them in their droves. Inject into this vacuum the likes of George Galloway and his Workers Party and you have a recipe for a whole lot of trouble.
During the campaign, the constituency's former MP Tracey Brabin (a second-rate actress best known for working on Coronation Street), told how Labour activists were pelted with eggs and kicked as they knocked on doors in Whittaker Street. "These people do not represent the Batley and Spen I know," said Brabin, whose election as West Yorkshire mayor sparked the election. "We are kinder than this." Tell that to the family of Bradley Gledhill.
The uncharismatic and robotic Labour leader, Sir Keir Starmer, has little hope of keeping the Muslim vote. The Labour candidate Kim Leadbeater, sister of the murdered former MP, Joe Cox, was hoping for a sympathy vote. Unfortunely as a lesbian she wouldn't be the first choice of the Pakistani voters. Also throw in the fact that Starmer's wife Victoria is Jewish and that they belong to London's Liberal Jewish Synagogue, and you have the perfect recipe for a Labour meltdown.
But Starmer also opened up on a topic he hasn't shared much about: how he and his Jewish wife are raising his children to recognise their Jewish roots. Starmer, who succeeded Jeremy Corbyn earlier this year, recently said that he was "brought up Church of England, loosely, and my wife's family are Jewish, they came out from Poland."
Starmer, 58, and his wife, attorney Victoria Alexander, have two children, whom they are "bringing up to recognise the faith of part of their grandfather's family, and it's very important," he said. "Just carving out that tradition, that bit of faith on Friday is incredibly important, because we get together and we do zoom prayers now."