Left-wing extremists have destroyed the Sea of Tears memorial at Heidefriedhof, Dresden. The memorial sculpture of a grieving girl is in remembrance of the victims of the 13th February 1945 allied bombing raids that almost completely destroyed the German city and killed up to 120,000 German civilians*.
"the dead were not victims, they were perpetrators."

Autonomous Action Group Denazify Dresden
It is a place of silence and remembrance, where the victims are remembered. Left-wing extremists have been calling for the sculpture to be "dismantled" on their "Indymedia" internet portal since 2021.
In 2010, the state capital had the memorial built for around 60,000 euros, artist Małgorzata Chodakowska created the bronze sculpture. "The girl is a symbol of new life – the crossed arms stand for calm and humility to think," says the artist. "The water basin symbolises new life and her shed tears is intended to extinguish the burning Dresden."
In a sickening letter, a female representing the "Autonomous Action Group Denazify Dresden" confessed to the deed. She justified the destruction with the words: "the dead were not victims, they were perpetrators." Women and children, babes-in-arms, old men and women, all were guilty in the eyes of this marxist.
Again and again left-wing extremists attack memorial sites of the destruction of Dresden – inscriptions are usually sprayed with graffiti shortly before the anniversary, and wreaths are destroyed. "Anyone who destroys a memorial for the bomb victims of February 13 is not only violently attacking a place for peaceful mourning, but also a symbol of admonition and reconciliation," said Saxony's state parliament president Matthias Rößler.
"I'm speechless that there are people who could do something like that."

Statue artist Małgorzata Chodakowska
The act was "an expression of sheer hatred". The artist now wants to repair the statue in a Dresden foundry and "heal her wounds."
Police are searching for the individuals responsible.
*The Destruction of Dresden (1963) – David Irving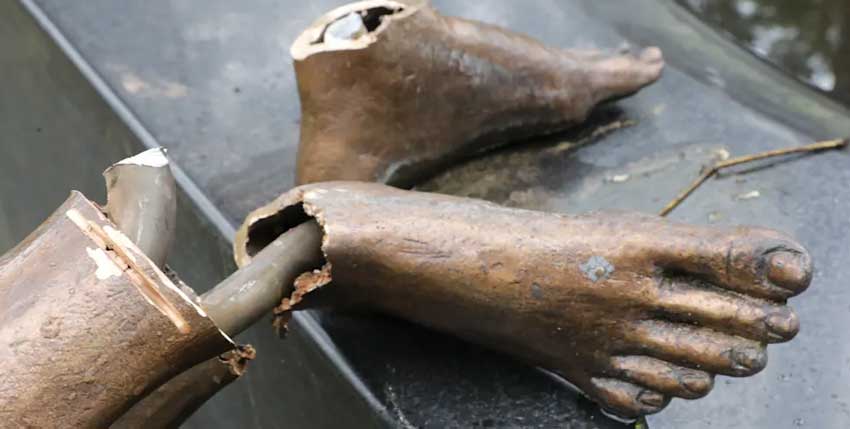 Approximately 1,200 bombers from Britain and the United States attacked the German city during four night time and daylight raids.
The attack was jointly undertaken by British and American forces but responsibility for it has often been laid on the British Prime Minister, Winston Churchill.
---
The British Movement would love to receive articles for possible inclusion on this site from members and supporters across the North of England. Please remember that we have to operate within the laws of this country – we will not include any content that is against the current laws of the United Kingdom. News reports should be topical and be relevant to the regions covered by this website.