Pierre Brochand, France's former intelligence chief has warned against possible civil war due to mass immigration.
France and Europe must abandon mass immigration and radically change their immigration policies, warned Pierre Brochand, who served as director of the Directorate General for External Security (DGSE) from 2002-2008. The DGSE is the French equivalent of the CIA and MI6 and Brochand made his comments during an interview published in the Le Figaro newspaper.
Le Figaro is a daily morning newspaper published in Paris. It is the oldest national newspaper in France and one of the three French newspapers of record, along with Le Monde and Libération.
"All my accumulated experiences make me foresee a dark, and even very dark, future for our children and grandchildren," said the former director of France's top intelligence agency in a widely discussed interview.
Brochand was formerly French ambassador to Hungary and Israel. He has publicly expressed his fear of a civil war in France because of uncontrolled immigration before, most noticeably in July 2019.
Pierre Brochand said in his new interview that France could be headed for a race war as mass immigration accelerates and creates enormous schisms within French society.
"All 'multicultural' societies are doomed to more or less deep rifts," explains Brochand, who was one of the longest-serving directors of the DGSE, an agency he headed for six years. "In such a situation, it happens that minorities are violent winners, and majorities placid losers."
For Brochand, if immigration is at the forefront of politics today, it is because it is "increasingly difficult to prevent the French from seeing what they see," and also because "a breakthrough personality has suddenly appeared in the formulaic world of politics that has encouraged them to open their eyes."
Interestingly, what Brochand is saying is that Marine La Pen's rise to prominence is opening up the voters eyes to the reality of what is happening in France today. In the same way, a possible Le Pen victory could begin the process of waking up our people over here, as racial politics and the future racial make up of Europe is brought to the fore by her victory.
His interview for Le Figaro was published on March 24 after new clashes in the French ethnic suburbs, particularly in Paris and Lyon. For two weeks at the end of March and the start of April, the cities of Sevran and Aulnay-sous-Bois in the suburbs of Paris have been the scenes of urban warfare, and similar violence has been seen in Villeurbanne and Vénissieux, in the suburbs of Lyon.
Each time, it was incidents between police officers trying to enforce the law and violent habitual criminals that were the initial cause of riots, shootings, and arson, as well as ambushes set up against the police squads called in as reinforcements.
"For my part," Brochand insists, "I hold the type of immigration, which we have been experiencing for half a century, to be an event 'out of category,' without precedent in our history. And, quite honestly, I confess that I do not understand how free and enlightened minds can still underestimate its seriousness."
In order to see the seriousness of it he explains, "one just needs to enumerate coldly its characteristics" and look at "the impact of what is happening to us:" The massive immigration flows, the type of immigration, with mostly migrant settlers, the "absence of political and economic regulation," the fact immigrants are mostly from outside Europe and in large part Muslims".
Unfortunately, one could not imagine the head of Britain's security services ever speaking out about the dangers of mass immigration. Our James Bond wannabees are more concerned with political correctness, ethnic quotas and the so-called threat from the 'far-right' than the violent race war fast approaching Britain and Europe. We have been warned…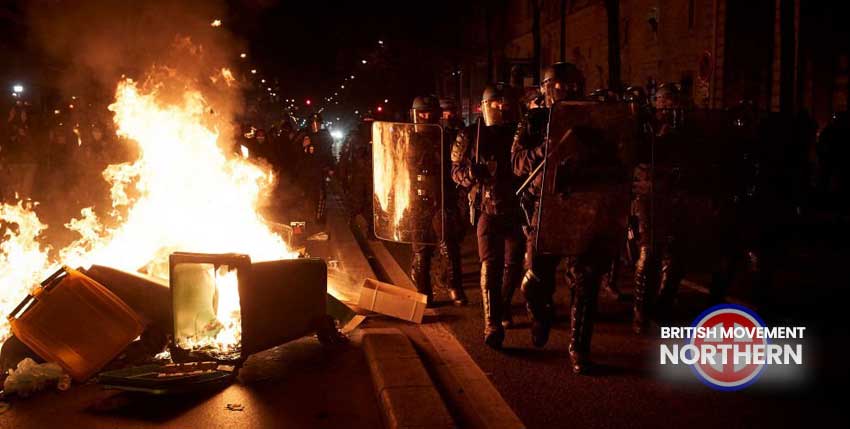 ---
The British Movement would love to receive articles for possible inclusion on this site from members and supporters across the North of England. Please remember that we have to operate within the laws of this country – we will not include any content that is against the current laws of the United Kingdom. News reports should be topical and be relevant to the regions covered by this website.