Some years ago, a liberal political commentator tried to counter what he saw as 'racist' opinions against Third World immigration into Britain, by stressing how much the introduction of foreign customs, cultures and lifestyles 'enriched' British society.
For the leftist and liberal mind there is no sight more pleasing than neighbourhood streets dotted with Chinese takeways, kebab shops, curry houses and jerk chicken eateries. Of course, such a multiculturalist mindset ignores all the negative impacts that the colonisation of entire neighbourhoods suffers, the street crime, grooming gangs, inter-ethnic fighting, drug gangs and the alien atmosphere created by concentrations on non-white, non-Europeans.
Such is the disdain that British National Socialists and British racial-Nationalists have for this bizarre notion of 'cultural enrichment', that many British Nationalists will now refer to assorted reports of black or Asian criminality as examples of 'enrichment' and non-white criminals as 'enrichers'.
These days, across the towns and cities of Northern England there are numerous such stories of this 'enrichment', but here is just one classic example from Huddersfield.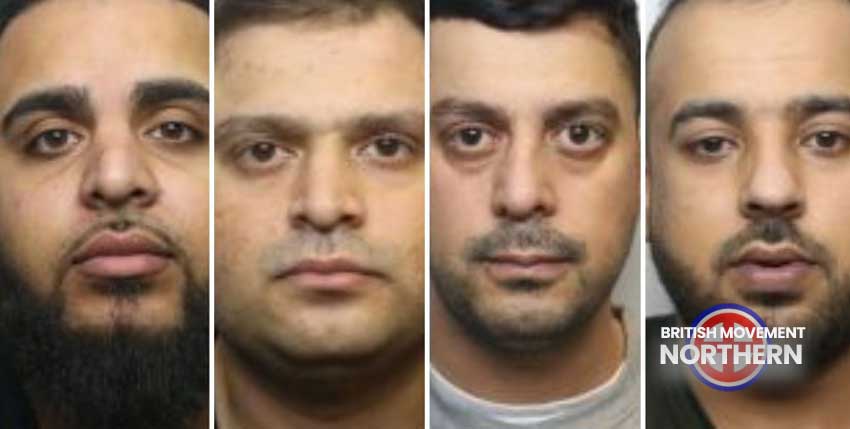 Leeds Crown Court, July 15th 2022, and a murder trial concludes. The result of what the judge described as a "battle of supremacy" between rival drug dealers in Huddersfield and what the police described as a "targeted gangland murder". This story of cultural enrichment became a public matter on December 19th 2020 at 9.09pm, when a young man called Jamal Nedd was shot dead by members of a rival drug gang.
A court heard how a convoy of cars had tracked Jamal Nedd before pulling alongside his parked car and carrying out his execution. Jamal Nedd was sitting in his car outside his mother's house in Clare Hill, Huddersfield, his mother Jenselyn was sitting in the car alongside her son when he was shot.
Following the completion of the trial, the three killers Sheraz Hussain (37), Hamad Hussain (32) and Tabish Ali (29) were each given a life sentence for murder. A fourth man, Mohammed Khan (31) from Bradford was sentenced to five years for his part, conspiracy to pervert the course of justice and arson.
Mr Khan had kindly taken the Vauxhall Insignia getaway car and burned it out to remove any evidence. The victim of the shooting, Jamal Nedd was of Afro-Carribbean heritage and was described in court as a popular young man, a talented musician, well liked in the community and well known at his mother's church, he was also involved in the local drug trade.
His killers were all of Pakistani-heritage and were members of a rival drug gang operating in the culturally diverse inner town districts of Huddersfield. Jamal Nedd had been involved in the ongoing 'turf war' between rival gangs and had taken part in the clashes between rival dealers and pushers.
The murder of Jamal Nedd took place in the Clare Hill area of Huddersfield, which falls within the Fartown district, a part of town which is extremely 'diverse' and has been a multicultural and multiracial colony since the 1960's. Not surprisingly the Fartown constituency is dominated by the Labour Party and is considered by local leftists and liberals as being a vibrant, culturally enriched part of those neighbourhoods just outside the town centre.
For the White British population of Huddersfield, Fartown has a reputation as being crime ridden, a place with regular muggings, stabbings, shootings, drug dealing and prostitution. Culturally enriched of course.
---
The British Movement would love to receive articles for possible inclusion on this site from members and supporters across the North of England. Please remember that we have to operate within the laws of this country – we will not include any content that is against the current laws of the United Kingdom. News reports should be topical and be relevant to the regions covered by this website.