Main Image: Players from QPR 'take the knee' and give black power salutes before their recent match against Millwall. Fans across Britain are sick and tired of being forced to view this political statement before every match.
The marxist former Shadow Chancellor of the Exchequer, John McDonnell, has attacked England football fans for booing players 'taking the knee', branding it "racist".
Before England's European Championship match again Austria on Wednesday 2nd June, players from both teams knelt down in the customary empty gesture against 'racism'. But this was met with boos from a section of the England fans.
McDonnell, who also served as Shadow Brexit Secretary under fellow marxist Jeremy Corbyn, took to Twitter to describe the booing as "racism" and demanded it be "called out".
As fan continue to return to the stadiums, the booing will only increase. The gesture of 'Taking the Knee' has now been going on for over 12 months and everyone is thoroughly sick of it. Crystal Palace winger Wilfried Zaha (who is black) said he felt taking the knee was "degrading".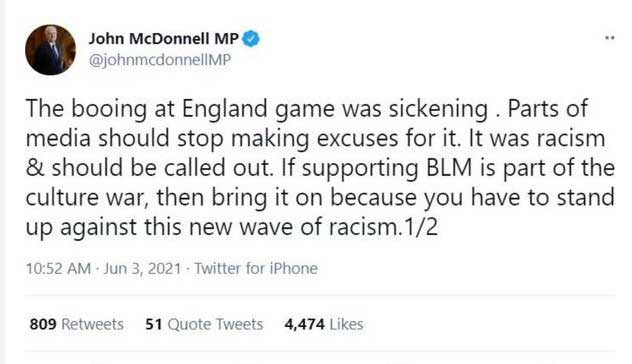 SO WHO IS JOHN McDONNELL?
Let's have a look what WikiPedia has to say:
"It's about time we started honouring those people involved in the armed struggle. It was the bombs and bullets and sacrifice made by the likes of Bobby Sands that brought Britain to the negotiating table. The peace we have now is due to the action of the IRA".
In 2006, McDonnell said that "Marx, Lenin and Trotsky" were his "most significant" intellectual influences. Footage emerged of McDonnell in 2013 talking about the financial crisis of 2007–2008 and stating, "I've been waiting for this for a generation! We've got to demand systemic change. Look, I'm straight, I'm honest with people: I'm a Marxist".
During an interview with Andrew Marr when the footage was played and McDonnell was asked, "Are you a Marxist?", he replied: "I believe there's a lot to learn from reading Kapital (Das Kapital by Karl Marx), yes of course there is, and that's been recommended not just by me but many others, mainstream economists as well."
In 2018, McDonnell attended the Marx 200 conference, where he said, "Marxism is about the freedom of spirit, the development of life chances, the enhancement of democracy." In 2019, during an interview McDonnell stated that Marx's Kapital is "one of the important analyses of the modern capitalist system"
McDonnell sparked controversy when he joked that Conservative politician Esther McVey should be lynched and described her as a "stain on humanity." He later said that he was quoting a constituent speaking at a public meeting convened to oppose McVey's policies on benefits and did not endorse the sentiment.
In 2017, McDonnell said: "I will be the first socialist Labour Chancellor". McDonnell in his Who's Who posted one of his hobbies as "fermenting [sic] the overthrow of capitalism". In 2018, McDonnell said that he "wants to "overthrow capitalism" and replace it with a "socialist society"". He also said Venezuela's economic problems were because it was no longer a socialist country.
During a hustings for the GMB Union, McDonnell was asked what single act he would do to improve the world if he could travel back to the 1980s. His off-the-cuff reply was that "I was on the GLC that Mrs. Thatcher abolished, I worked for the NUM and we had the NUM strike, I think I would assassinate Thatcher".
McDonnell told the BBC: "I'm sorry if I have caused offence to anyone. It was a joke and in that audience it was taken as a joke … it was taken out of context, I can see if people are upset about that and if I have caused offence to anyone of course I apologise"
---
Update 09/06/2021
England Manager Gareth Southgate has pleaded with fans to stop jeering 'his' team and says those booing "aren't understanding the message".
But some supporters of the booers were further riled by Southgate saying his players will ignore any "adverse reaction" to them taking the knee. "So ok for players to make a point, but fans aren't entitled too?" one said on Twitter.