Aimed principally at what the politicos describe as 'Red Wall seats', which are basically former Labour Party strongholds in the North and the Midlands. The concept of 'Levelling Up' is the notion that a Conservative government would follow policies and economic strategies to lift the former industrial centres into line with the prosperous cities and towns of South East England. 'Levelling Up' is a slogan aimed at White working-class voters who backed Brexit and don't trust the Labour Party when it comes to public spending.
Part of the 'Levelling Up' strategy is centred on the idea that councils and city region authorities will receive financial support from the Westminster based government to undertake public works and infrastructure projects to generate jobs, attract new industries, and business investment into the target areas.
But there is an underlying ideological problem here. Unfortunately many of the councils across the North of England are Labour controlled, this is especially true of the larger metropolitan councils and city councils such as Greater Manchester, Liverpool, Newcastle and the South Yorkshire region.
Those Labour fiefdoms, particularly those with large urban, ethnic-minority dominated wards, will happily splurge hundreds of thousands of pounds on multi-cultural vanity projects and support services for immigrants, rather than maintaining services aimed at the overall, usually White working-class population.
Any rural or semi-rural wards in Labour controlled councils will come bottom of the list for any council spending. Councils with dominant ethnic minority councillors (usually Asian) will not consider undertaking any high levels of investment outside their own communities and have little empathy or understanding of the White majority rural districts. Something which has surfaced in local councils in West Yorkshire and East Lancashire.
When it comes to 'Levelling Up' the Tories talk a good game but fail to deliver, except where their friends in big business stand to reap major profits like the ridiculous HS2 rail transport project. Already the less attractive and financially dubious sections of HS2 in the North are being axed or scaled back. So much for 'Levelling Up'. In 2021 the proposed high speed rail link from Birmingham to Leeds was scrapped and the proposed new trans- Pennine Leeds to Manchester rail route was also axed.
The original 'Levelling Up' fund was said to be worth £4.8 billion, but so far 61% of England's most deprived districts have not received a penny. As the majority of those target areas are in the North, that is hardly surprising.
Public transport is a classic example of this failure at all levels; Liverpool City region has asked the Conservative government for £667 million to fund it, but the Treasury in Whitehall has offered only £12 million, South Yorkshire asked for £474 million but gets nothing. But South Yorkshire has a poor track record on public spending, decades of Labour controlled towns and the city of Sheffield and their financial mis-management does not inspire confidence.
Clean Air Zones (CAZ) – currently the favoured target for indiscriminate spending, especially by the larger Labour Party controlled cities. Greater Manchester and Greater London are both very keen on such projects. These Eco-friendly grandiose projects are a big hit with metropolitan Labour voters, usually professional, university educated 'progressives' but less so amongst working-class folk who need a car or van to get to work or run a small business.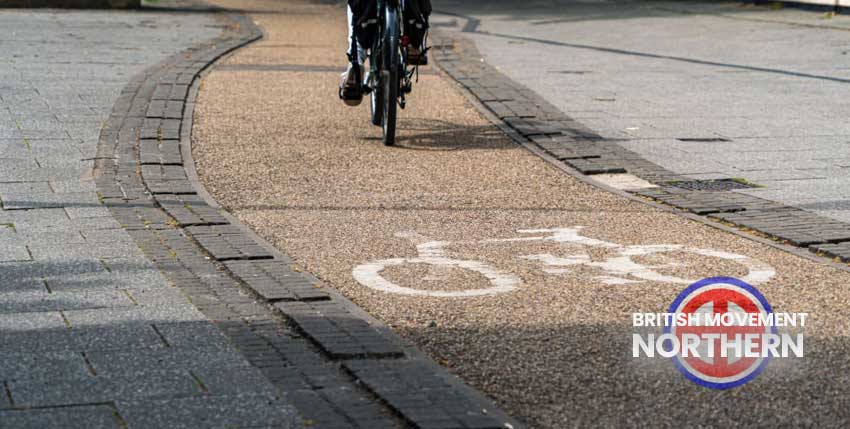 It is amazing how much local authority money is being ear-marked to create CAZ transport links and cyclist and pedestrian only routes in Labour controlled places like Manchester. Punishing ordinary working folk with punitive penalties on cars and diesel engine vehicles is the opposite of 'Levelling Up' but falls into the ideologically motivated Labour Party leadership who are keen to demonstrate their green credentials and want to confront the Tory government on eco-related politics.

And don't forget that the other Conservative slogan of the 2019 election, 'Build Back Better', has nothing to do with improving the lives of post-industrial towns and cities but everything to do with the Great Re-set and Operation Lockstep.

But that is a different story in itself….
---
The British Movement would love to receive articles for possible inclusion on this site from members and supporters across the North of England. Please remember that we have to operate within the laws of this country – we will not include any content that is against the current laws of the United Kingdom. News reports should be topical and be relevant to the regions covered by this website.