British Movement has a fledgling social welfare project called 'Looking After Our Own'.
This is a fairly loosely structured fund-raising group at present, but seeks to develop and expand into a formal fund raising and welfare organisation in its own right, while still under the umbrella of BM.
In a recent episode of the BM pod-cast 'Not On Our Watch!', presenter Benny described his experiences during a recent visit to the Lancashire seaside resort of Blackpool. Benny was shocked to encounter rough-sleepers and homeless people lying in sea-front shop doorways, He spoke to some of these individuals and gave them spare cash from his own pocket.
This report on a BM podcast has inspired a number of BM members and supporters up and down the country and a number of BM people have become involved in soup runs to homeless persons in British towns and cities.
Pictured here is a homeless man in Manchester city centre where a BM supporter was distributing carrier bags of basic food items and toiletries to the unfortunate homeless.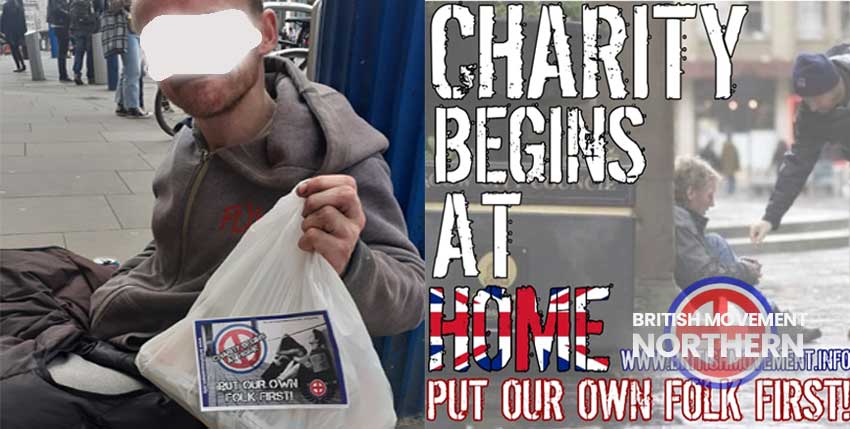 The donations were gratefully received and the recipients had no problem accepting help from British Movement. The bags were clearly marked with the BM logo and it was made clear that this was being carried out in the name of British Movement.
Over the last decade BM has used Looking After Our Own to stage events, make collections and distribute donated money to those in need. Several years ago, some BM volunteers in the Midlands and Northern England ran a campaign called "Bring a Tin", where foodstuffs and toiletries were collected and distributed food/grocery packages to BM families in financial difficulties and also to known White British families in their local area who were experiencing financial hardship. A similar project was also experimented with by BM members and supporters in Northern Ireland.
For some years BM had staged music gigs and social events to raise money for BM families and known British Nationalist families experiencing serious financial problems; often proving cash support to cover funeral costs, or to provide support for persons suffering from terminal cancer or a similar life-threatening condition.
It is a matter of pride that in a roughly ten-to-fifteen-year period, the concept of Looking After Our Own has been able to raise in excess of £27,000, all of which has been donated to the intended recipients. Unlike mainstream charity organisations, BM does not siphon off any wages or administration costs.
The model for Looking After Our Own is taken from the National Socialist community help organisation outlined below.
In NS Germany during the late 1920's and throughout the 1930's and into the early war years, the NSDAP ran a party social welfare organisation called Winter Help (WHW – Winterhilfswerke).
In the years of the 'Struggle' between 1925 and 1933, the NSDAP ran soup kitchens in deprived neighbourhoods and protected impoverished NS families from eviction during rent strikes in the slum districts of major cities.
Winter Help later ran high street collections for unemployed or impoverished families, donated food, and put on public Christmas parties with presents for children from the poorest districts.
In rural districts, particularly during the years immediately following the Great Depression, the NSDAP sent trucks out into countryside villages where starving farmers and farm workers were given loaves of bread and other basic foodstuffs. The distributions were carried out by volunteer uniformed SA and SS personnel.
In Britain during the 1930's, the British Union of Fascists (BUF) sent squads of Blackshirts to prevent evictions of impoverished families in working-class districts of major cities. Opposition to evictions was also reported in some rural areas, noticeably in Norfolk, where BUF Blackshirts physically confronted and challenged bailiffs.
Hopefully British Movement will never be required to prevent evictions of impoverished White working-class families in 21st Century Britain.
'Looking After Our Own' is intended to expand and develop to a point where it has its own designated bank accounts and protected funds. This project is part of the broader BM strategy of offering a British National Socialist alternative to state-controlled handouts or local authority administered food banks and social welfare provisions.
When this project becomes a reality, details will be given on social media.
---
The British Movement would love to receive articles for possible inclusion on this site from members and supporters across the North of England. Please remember that we have to operate within the laws of this country – we will not include any content that is against the current laws of the United Kingdom. News reports should be topical and be relevant to the regions covered by this website.