An ex-soldier who served alongside Lee Rigby and who is now the landlord of a pub in Bury town centre, has shown that there is still fight in our people. Previously, Bury in Lancashire was best known for its traditional open-air market and its black pudding stalls. Now it has a new real-life hero.
Stewart Spensley spent 18 years in the Army and was a comrade of Drummer Rigby in the 2nd Battalion of the Royal Regiment of Fusiliers. He is now the landlord of the Two Tubs in Bury town centre
"Lee was in my platoon," Stewart explained. "We got on instantly because I'm from Bury and he was from Middleton."
The pub hosts a Military Monday event to support army veterans who are down on their luck. It provides a free meal to ex-servicemen and helps raise awareness of the mental health conditions that effect many ex-servicemen. A donation box for the Lee Rigby Foundation* is also on the bar and helps to collect a substantial amount for the charity.
The pub also donates the takings of its jukebox to The Foundation (LRF). Stewart took over the Two Tubs, which has strong military links, 12 months ago. The pub is a traditional English public house, the kind of place our parents, grandparents etc would recognise and love. It is how a proper pub should be, with good beer and a real community spirit.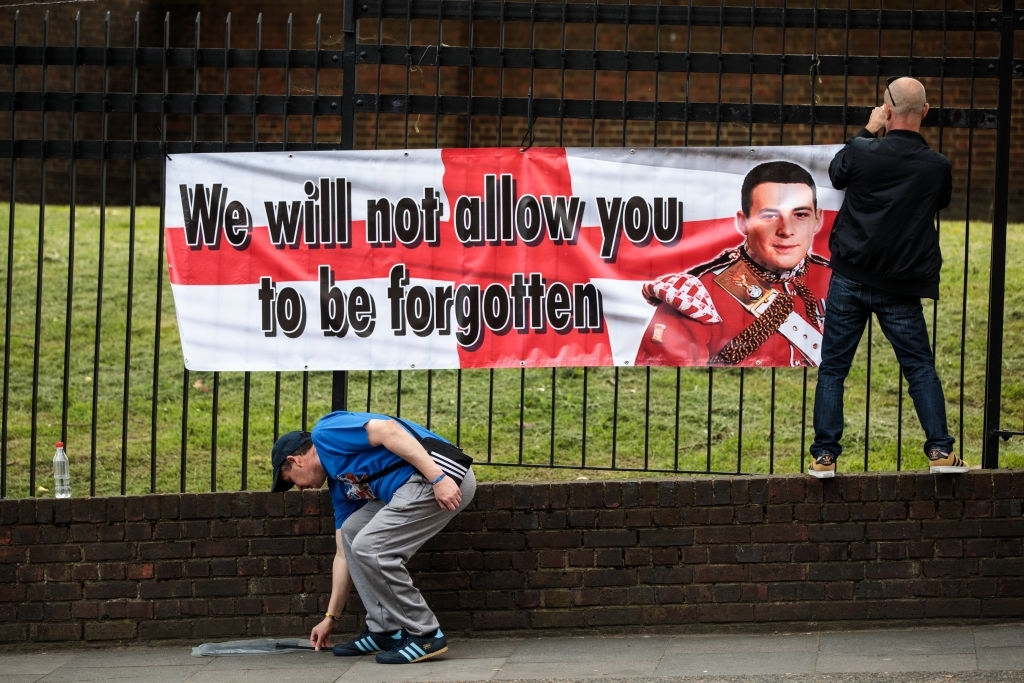 Last Wednesday, while the landlord was enjoying a drink with an ex-military friend, a sneak thief grabbed the LRF collection box and ran out of the pub. Unfortunately for the yob (probably an addict), Stewart and a friend gave chase. "The charity is close to my heart, so I just thought 'you're not stealing that'," said Stewart, 42.
Stewart pursued the man through Bury town centre and eventually caught him in Bolton Street, where he retrieved the charity box. After the low-life turned violent, he managed to restrained him until the police arrived. Stewart was later quoted as saying: "It's disgusting that people would go that low as to steal a charity box.
During almost two decades in the Army, Stewart carried out three tours of Afghanistan as well as serving in Bosnia, Kosovo and Northern Ireland.
*The Lee Rigby Foundation, which was founded by Lee's parents Lyn and Ian after their son was murdered outside his barracks in London in 2013, by two Islamic fanatics who should never have been allowed into this country.
If you ever happen to be in Bury town centre, why not call into The Two Tubs at 19 The Wylde, have a beer and give a donation to the Lee Rigby Foundation, via the charity box on the bar or by putting a song on the jukebox. The pub has a range of cask and guest real ales and serves fresh food daily. You'll be helping to support two great causes: our soldiers and the traditional British pub.