Whilst out and about in York on Saturday, we came across a rag-bag group of the usual suspects protesting about Britain's 'hardline' immigration policy. These traitors were also demonstrating against a 'far-right' (their words), anti-refugee demo involving the For Britain party (civic Nationalists) and Patriotic Alternative members.
"We will keep going until we hit our saturation point because what does it matter if we have to wait another week for a hospital visit?"

Rachael Maskell, member of Parliament for York Central since 2015
Prominent amongst the pro-refugee demonstrators was the local Labour MP, Rachael Maskell. Her Twitter account was full of tweets praising the liberal/red demonstrators, and included the statement, "Out in force here in #York today to say it loud, say it clear, refugees are welcome here." It ended with the hashtag, #RefugeesWelcome
So who is this Rachael Maskell? The BM Northern website has done a bit of digging about this pro-migrant, Labour MP.
Elected to Parliament in 2015, the backbencher soon found herself in hot water after a speech she gave at a rally in 2015, in which she said that indigenous Britons should have to suffer so that more refugees could be allowed into our country.
In her speech, a video of which can be viewed below, she said, "We will keep going until we hit our saturation point because what does it matter if we have to wait another week for a hospital visit? Or if our class sizes are slightly bigger; or if our city is slightly fuller? What does it matter if things are slightly more challenging? If we have to pay a little bit more into the system? Surely it is worth it to see those lives being restored again."
After a string of angry responses, Maskell, claimed her comments had been "taken out of context." She said: "I am not saying 'open the doors' and everyone can come in. It has to be part of a controlled system. "I am saying that we have to do more. I am talking about six refugees in each constituency; that really is the limit. "We can all have a bit more compassion. If it was the other way round and we were in that desperate situation, we would expect somebody to show compassion to us."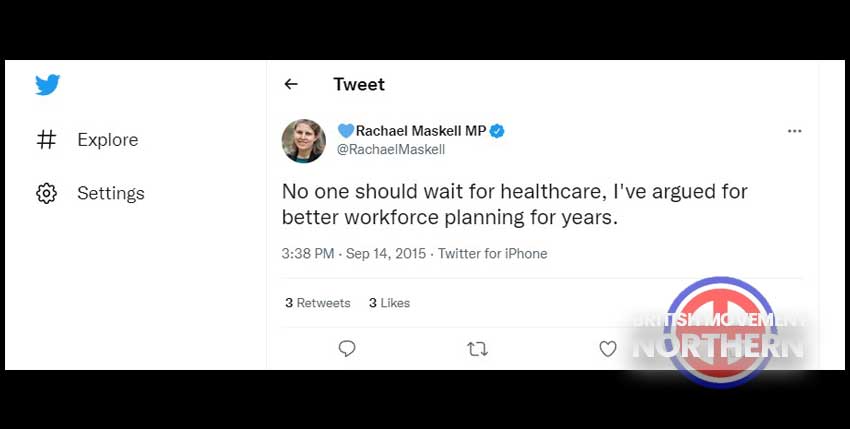 York's Stand Up To Racism group held a meeting at the Priory Street Centre on Friday evening (June 17 2022), to talk about the plans for placing 1500 single, male asylum seekers in the former RAF centre at Linton-On-Ouse near York. Maskell, attended the meeting.
She was quoted as saying she was "very thankful" that the deportation flight to Rwanda (with seven illegals!) didn't take off on Tuesday, but added that people must be aware that the Government is now "going for our human rights."
Maskell proposed that instead of setting up a 'super bridging hotel' in Linton-on-Ouse, isolating refugees and overwhelming the local community and services, the Government should set up a 'Homes for Refugees' whereby people can welcome refugees into their homes, as they have with Ukrainian refugees.
The trouble with this policy is that no nice liberal or red will stand up and give a home to the illegals.
---
The British Movement would love to receive articles for possible inclusion on this site from members and supporters across the North of England. Please remember that we have to operate within the laws of this country – we will not include any content that is against the current laws of the United Kingdom. News reports should be topical and be relevant to the regions covered by this website.