A 'county lines' drug gang organised by a group of Asian men and white pushers, used children as young as 14 to traffic drugs from Bradford to Barrow-in-Furness, almost 90 miles away.
The crime gang flooded part of Cumbria with Class A drugs in an operation that 'exploited the most vulnerable in society'. South Cumbria was flooded with crack cocaine and heroin between July 26 and September 9, 2021.
Five men have been sentenced this week at Burnley Crown Court, following the major drugs investigation by Cumbria Police, assisted by West Yorkshire Police.
The head of the gang, which called itself 'Striker', was 21-year-old Asim Hussain from Manningham, Bradford. Hussain was sentenced to eight years in prison and made subject of a Serious Crime Prevention order for conspiracy to supply crack cocaine and heroin, and money laundering.
His brother Adil Hussain, 19, also of Waterlily Road, Manningham, was sentenced to a 12-month community order for money laundering. Drugs courier Jibram Rahman, 27, of Round Street, West Bowling, Bradford, was sentenced to three years in prison for conspiracy to supply crack cocaine and heroin.
Another drugs courier, Abaas Ali, 31, of Lower Edge Road, Brighouse, was sentenced to four years in prison for conspiracy to supply crack cocaine and heroin, and money laundering. Street dealer Simon Harrison, 36, of Furness Drive, Illingworth, Calderdale, was sentenced to two years and three months for possession with intent to supply heroin and crack cocaine.
Two other people – Matthew Murphy, 20, street dealer, Huddersfield, and Kelly Newby, 41, 'houser', of Lesh Lane, Barrow-in-Furness – were sentenced at an earlier hearing for their roles in the conspiracy.
When he was arrested, Murphy's phone showed he was taking instruction from Asim Hussain via text message, including messages such as: "Wen should I pass d white [crack cocaine]."
A spokesperson from Cumbria's south area Community Serious and Organised Crime Unit said: "The Hussain brothers' drug operation exploited the most vulnerable in society, for profit. They used children to traffic drugs into the county, and they made money from Cumbrians struggling with addiction.
"The investigation against this criminal group was lengthy and complex, and the strength of the evidence against Asim Hussain in particular – which ultimately led him to plead guilty to the full facts of the prosecution case rather than elect for trial – was achieved in partnership with West Yorkshire Police and the British Transport Police.
"I hope these sentences send a strong message to those selling Class A drugs into south Cumbria: we will pursue you, arrest you, and prosecute you no matter where you live."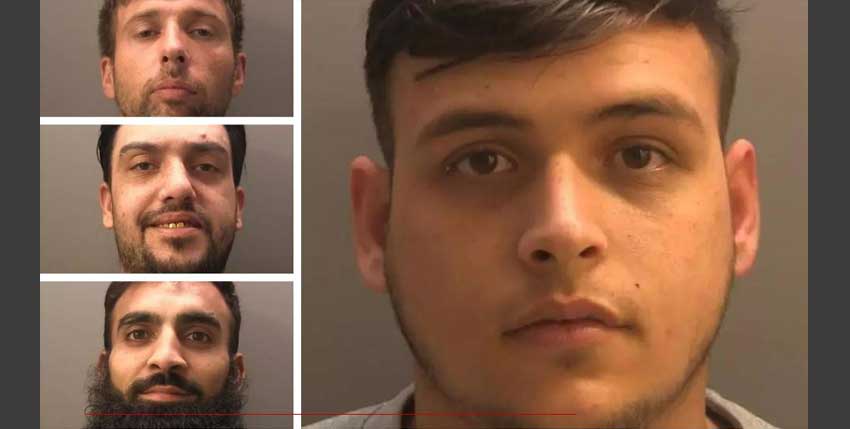 ---
The British Movement would love to receive articles for possible inclusion on this site from members and supporters across the North of England. Please remember that we have to operate within the laws of this country – we will not include any content that is against the current laws of the United Kingdom. News reports should be topical and be relevant to the regions covered by this website.