A music festival held in a struggling Leeds pub on Saturday 23 July has caused outrage amongst the usual suspects. The controlled media, using terms like 'horrified punters' and 'a disgrace', make it sound like Jimmy Saville was the DJ and Rolf Harris was one of the guest artists.
In fact it was a private event featuring a number of 'Oi' bands. For those who don't know their Oi from their elbow, it is the name given to a genre of music loved by punks and skinheads that originated in the UK after the youth culture resurfaced in the late 70's and early 80's.
"For everyone who is complaining about what music is taking place tonight, the police have been and nothing untoward has been mentioned. So as for 'save the salters' those who are moaning where have you been".

The Drysalters statement on social media, 7.50pm on Saturday evening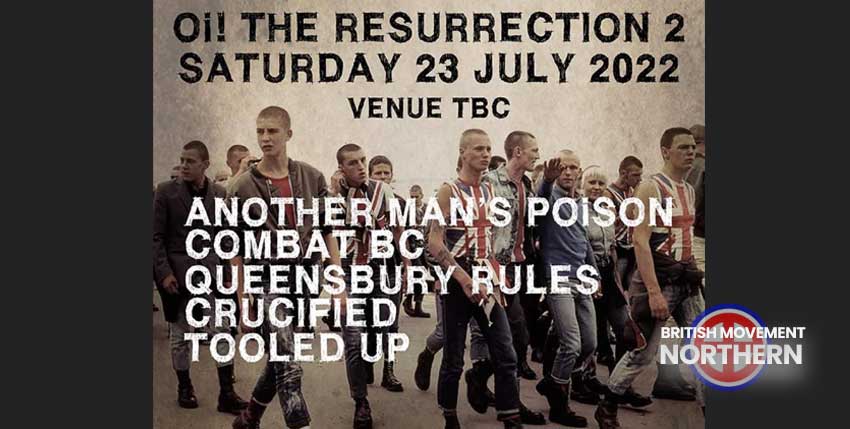 A First-Hand Report
The gig was a non-political, patriotic 'Oi' event, attended by a mixed crowd of skinheads, casuals, bikers and scooterists. Around 160 were present, and all those attending were well behaved, with no fights, arrests and no drug taking.
It was well stewarded by professional door staff, and out of courtesy the police were informed and two officers attended and had a light hearted chat with the organiser about the event. Unfortunately they declined an offer to come in and see for themselves.
Although the media reported it as a 'right-wing' event, it wasn't. All proceeds raised from the night was for a friend with a serious illness. The Drysalters pub, which has been struggling for a couple of years and had narrowly escaped being turned into a Costa Coffee, received much needed revenue.
It is believed that local punks were behind the smear campaign and now they will also have to find another venue for their left-wing anarchist rants.
Report by SAP
---
The outcry was led by the Yorkshire Evening Post (which sells mainly in Leeds), itself a struggling rag that still pretends to be relevant in today's digital world, with a report headlined "Leeds Pub Apologises After Horrific Gig Goes Ahead". The YEP, like most other print media, is struggling to remain credible after losing 220,000 daily sales over the past 50 years.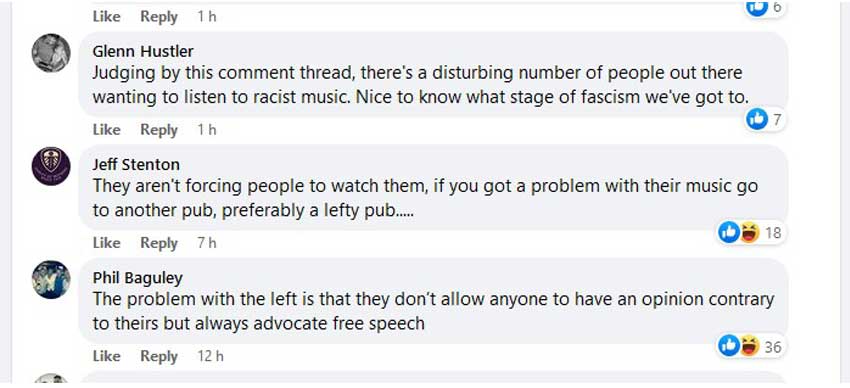 In 2012 the circulation was 32,000 and that fell to just 11,494 in July – December 2017 according to Wikipedia. That heady total will have shrunk even further in the past five years – and good riddance we say. The paper is no longer printed in Leeds – it is produced in Sheffield, 36 miles away.
YEP journalist Peter Lazenby, a member of the International Socialists (renamed the SWP) who retired in 2012, was political editor and always reported on anything concerning the 'far-right'. Needless to say his reports were based on distortion and lies and always had a marxist slant.
After receiving his gold clock he carried on writing for the Morning Star, newspaper of the Communist Party Of Great Britain. His parting shot was "It's essential reading, so I urge you to start buying it, comrades." It seems that Lazenby has trained his 2022 replacements well in the art of black propaganda.
Another woke website with pretensions to be something it isn't is the Leeds Live website, which headlined their report on the evening as "Leeds pub "a disgrace" for allowing controversial punk band to perform" and went on to say that The Drysalters' "horrified" punters for allowing the German group Combat BC to perform.
---
The British Movement would love to receive articles for possible inclusion on this site from members and supporters across the North of England. Please remember that we have to operate within the laws of this country – we will not include any content that is against the current laws of the United Kingdom. News reports should be topical and be relevant to the regions covered by this website.