Today in Leeds (28/01/23), saw the best attended demonstration to date against the Home Office policy of housing illegal immigrants in hotel accommodation.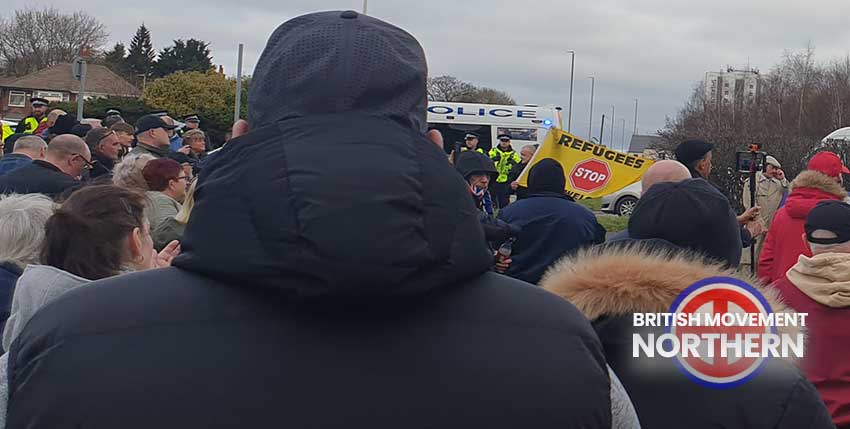 Between 150-200 Nationalists representing a number of organisations (and a good cross-section of the local community) gathered opposite the notorious Britannia Hotel in Seacroft, Leeds. This particular hotel has seen a number of protests over the past few months, all of which have been covered by this website.
Due to the demo being widely advertised on social media and elsewhere, the police were out in force ringing the protesters and filming everyone in attendance. Two drones were seen buzzing around overhead, with one of these possibly being controlled by the political police. For the first time during one of these demonstrations, the police also closed off a road leading to the nearby Seacroft shopping centre,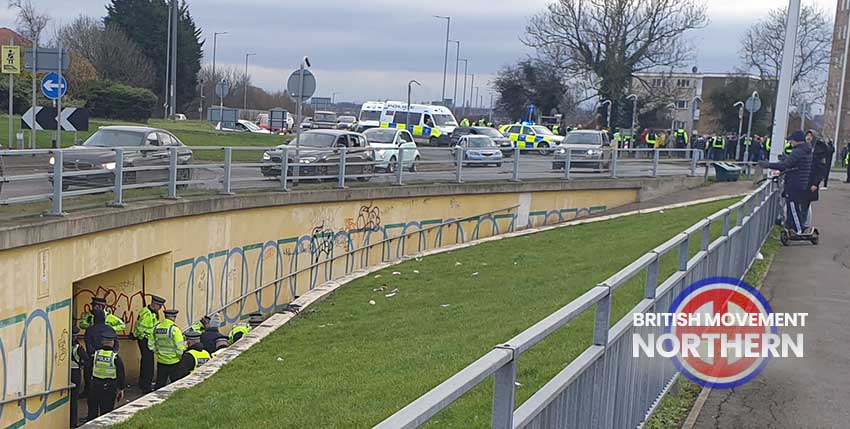 Earlier, just as we were gathering before the rally, the police allowed a group of antifa 'hardmen' to cross into our space. Unfortunately for the reds, a quick scuffle (and embarrassingly with one of their number on his ar**), they then beat a hasty retreat back behind the police.
The 20-strong group of antifa members were hemmed in by the police just outside of the hotel and out-of-sight of any motorists or shoppers. With such a poor turnout to oppose the 'fascists', and being corralled out of sight, these middle-class warriors were totally disillusioned.
Thanks must go to the PA for their hard work making the event such a success, to the other patriots who turned out, plus the football lads who came and to those BM members who kept the spotty students of antifa on their toes.
Resources:
All Images: © British Movement.
---
The British Movement welcomes articles for possible inclusion on this site from members and supporters across the North of England. Please remember that we have to operate within the laws of this country – we will not include any content that is against the current laws of the United Kingdom. News reports should be topical and be relevant to the regions covered by this website.