On Saturday 6th August, in ill-fitting stiletto heels, smeared eyeliner and laddered fishnets, the nationwide 'Drag Queen Story Hour' tottered into Leeds. The 'star' of this show is a particularly grotesque individual called Aida H. Dee (which is itself a play on the neurological disorder ADHD). His real name is Sabastian Samuel and in 2019 he started the show to "inspire a love of reading, while teaching deeper lessons on diversity".
He is undertaking a nationwide tour aimed at children between the ages of 3 to 11-years. Why between these ages you may ask? As one BM activist explained: "Under three and they are babies, after eleven they are reaching puberty and already know their feelings. This is an attempt to groom young children."
"Any parent who takes their children to an event like this should be investigated by social services. I know for a fact that if any racial Nationalist took their small children to some of our events they would be reported."
Unfortunately Leeds City Council's Library Services allowed the performance to go ahead despite cancelling two others that were due to take place at Halton and Chapel Allerton libraries due to safety concerns.
This latest marxist campaign to indoctrinate (groom) young children over sexuality and gender under the guise of the love of reading, is aimed at primary school children but is being met by protests from parents up and down the country. Stonewall, the homosexual 'charity', which campaigns on issues around homosexuality and trans issues, insists 'that children as young as two recognise their trans-identity'.
Originally set to perform in three Leeds libraries, the tour was reduced to just one, Leeds Central, after opposition to the performances led to Leeds City Libraries Service having cold feet. BM had planned to demonstrate outside all three performances.
The spotty students of antifa also mobilised to 'protect' the right of a pervert to talk to young children from 'fascists', homophobes and christians'. What about the rights of children to be children and not have to be lectured on things that they don't need to know at that young age?
Apart from antifa, the counter-protests were also being supported by Leeds Stand Up To Racism and the Trans Pennine Travelling Sisters group. The Trans Pennine Travelling Sisters are, in their own words "A mission of queer travelling nuns serving LGBT*IQA communities along the Trans Pennine way." Funny how everyone seems to have a community these days, apart from us Whites.
The counter-protest was organised by Patriotic Alternative supported by British Movement, with the PA providing the literature and banners. Meeting up in Leeds Central Railway Station beforehand, we walked through the city centre to the library to hold our protest, handing out leaflets on the way.
At the library, which is only 50 metres from the architecturally magnificent Leeds Town Hall, we were met by the pro-grooming degenerates. Rainbow flags, shrieking lesbians, gay men and black-masked antifa members all lined-up to protect what was supposed to be a fun learning event for young children.
The numbers involved in our counter-demonstration were swelled by a small number of Christians, anti-vaxxers and members of the public who, after reading our literature joined in our picket. Encouragingly, many of those who joined in or expressed an interest in our group were young men and women, giving the lie to Hope Not Hate's "Nationalists are all middle-aged men" attack.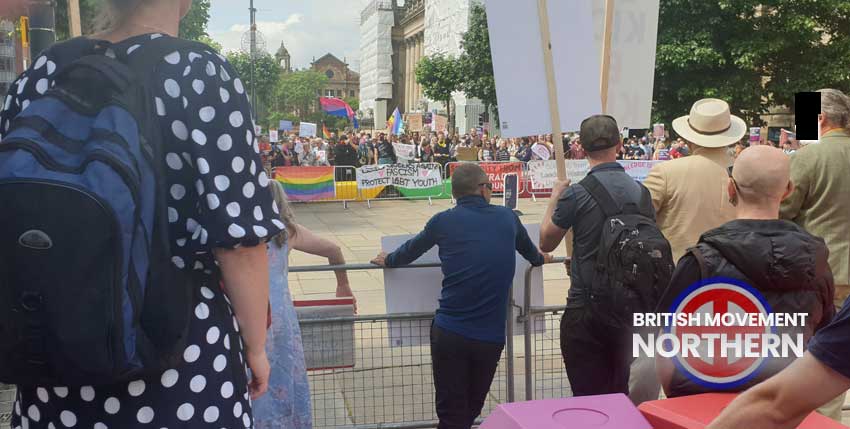 Back in the mid-seventies, an organisation called P.I.E. (Paedophile Information Exchange) held its annual conference in central London. It advocated making sex with children legal. The group also stated that babies could experience sexual pleasure. Unbelievably the organisation was legal and was supported by Harriet Harman, Member of Parliament for Camberwell and Peckham and Mother of the House of Commons. The Labour MP was the then chair of the National Council for Civil Liberties.
The conference was picketed by female members of the National Front who bombarded the attendees with flour bombs and insults. The press, though wary of the NF involvement, were generally supportive. Fast forward fifty years and the supporters of sexualising children are pretending that the Drag Hour isn't about sexuality and that having a 'drag queen' doing the reading is just following the harmless tradition of having a pantomine dame at perform.
In a rare show of common sense, the Daily Mail ran an article that attacked the Drag Queen Story Hour tour and it also gave some interesting background on the 'star' of the tour.
Click here to view the Daily Mail article.
---
The British Movement would love to receive articles for possible inclusion on this site from members and supporters across the North of England. Please remember that we have to operate within the laws of this country – we will not include any content that is against the current laws of the United Kingdom. News reports should be topical and be relevant to the regions covered by this website.