The Government policy of housing illegal immigrants in hotels has kick-started protests around Britain. From Glasgow to Newquay, Hull to Belfast and beyond, racial Nationalists, patriotic groups and large numbers of concerned citizens have mobilised in protest.
Nearly 300 demos have been held outside of hotels cashing-in on the invader money tree. The British Movement has been involved in a number of protests, mainly in the North of England and the Midlands. But is this enough to change Government policy? Will the greedy sharks who are making £millions from this invasion have a change of heart because of a few hundred noisy demonstrations? Probably not.
A suggestion that holiday camps and student halls of residence should be used to relocate people from the hotels is now thought unlikely to go ahead. Instead, the 'asylum seekers' could be moved out and into military bases or disused ferries under government plans that are expected to be announced later this week.
And when the hotel scandal ends, and end it must, those greedy opportunists who have made a killing from taxpayer's cash will expect all of their former customers to just ignore the shoddy way that they have been treated, and simply forgive and forget.
One company that has seen its turnover increase massively is Leeds-based Calder Conferences Ltd, a private company that 'helps find hotels for asylum seekers' and has seen its profits treble to more than £6 million. The company received £20.6m from the Home Office in 2021, increasing to £97m in 2022, official documents show.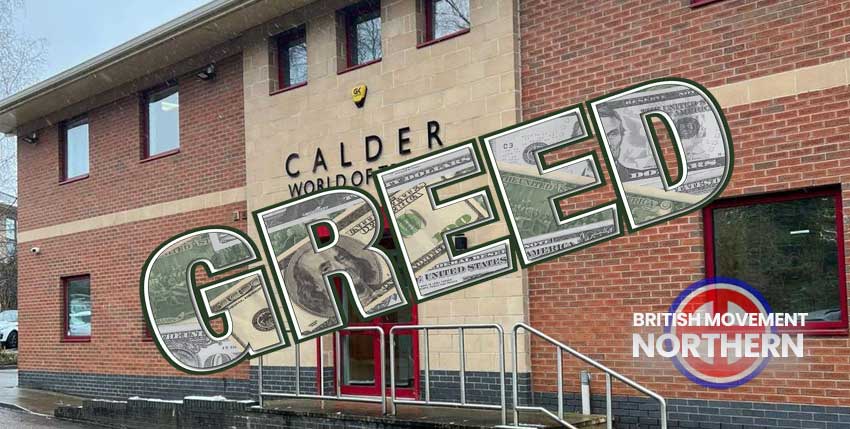 Meanwhile, company director Debbie Hoban saw her annual remuneration multiply nearly ten times to £2.2m. Hoban is formerly a director at The Grange, 211 Stanningley Road, Leeds.
Calder Conferences Ltd has its main office at Unit 4, Woodside Court, Clayton Wood Rise, Leeds, LS16 6RF, and was incorporated on 27 January 1999. The two named directors are:
Mrs Deborah Ann Hoban – D.O.B August 1959, appointed 28 Jan 1999.
Mr James Dean Turner – D.O.B. January 1969 appointed 05 Sept 2014.
Home Office sources suggested that the revenues earned by Calder were mainly from finding bridging hotels for Afghan refugees who arrived following the Taliban takeover in 2021.
In the March episode of the BM's 'Under The Sunwheel' podcast, co-host Benny suggested that perhaps now is the time to diversify the protests, and to focus on those organisations profiting from the refugee invasion. He suggested targeting those supplying the food and drink to the hotels as a first step in a new campaign.
With the government trying to counter the growing nationwide protests by shifting the refugees to camps in more rural locations, perhaps now is the time for us also to change tactics.
Post Links:
Plan to house refugees at RAF Scampton here >>
Under The Sunwheel Podcast here >>
Resources:
Top : Image by Peggy und Marco Lachmann-Anke from Pixabay.
Lower image: Google Street View & Mary Pahlke from Pixabay.
---
The British Movement welcomes articles for possible inclusion on this site from members and supporters across the North of England. Please remember that we have to operate within the laws of this country – we will not include any content that is against the current laws of the United Kingdom. News reports should be topical and be relevant to the regions covered by this website.