Gaff-prone MP Diane Abbott, the Labour member for Hackney North and Stoke Newington since 1987, has blamed the media, the Tories and anyone else she can think of for the homosexual rape of a young boy at a hotel that houses refugees. Everyone is to blame apart from from the actual refugee who did the attack that is.
"it is what happens when you demonise migrants and take no responsibility for safeguarding migrant children."

Diane Abbott, the Labour MP for Hackney North and Stoke Newington.
Abbott has been widely criticised for tweeting that the rape at a refugee hotel in north east London last month 'is what happens when you demonise migrants'. Abbott, the former shadow home secretary in ex-Labour leader Jeremy Corbyn's shadow cabinet, made the remarks on Twitter last Thursday afternoon (Nov. 3rd).
The attack took place on October 5 at an hotel in the London borough of Waltham Forest. Details of the rape have only just been released.
"Officers attended and spoke to the victim, a boy in his teens, and his family," a spokesperson told Sky News on Thursday. "Specialist support is being provided. "A man, aged in his 30s, was arrested at the scene and taken into custody," they added. Another incident allegedly took place at the same facility, which saw a male claiming to be aged 17 arrested on Sept. 11 and charged with one count of sexual touching of a child under 13.
She ended the tweet by calling for the ousting of current Home Secretary Suella Braverman.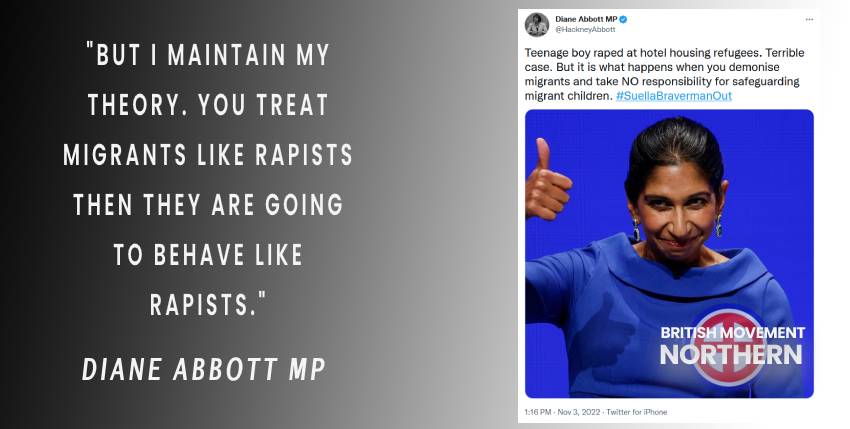 Abbott is well-known for her failure to grasp the facts. Here are a few of her other slip-ups….
Told LBC Radio it would cost just £300,000 to hire 10,000 more police officers over four years – a grand total of £30 for each.
The Hackney North and Stoke Newington MP's decision to educate her child privately caused a storm of criticism in 2003 because Ms Abbott had previously attacked her Labour colleague, Harriet Harman, for sending her son to a grammar school.
She was accused of playing the 'race card' after she defended sending her son James to a £10,000-a-year school claiming: 'West Indian mums will go to the wall for their children.'
Abbott told Andrew Neil on the BBC show This Week: 'I suppose that some people would judge that on balance Mao did more good than harm. We can't say that about the Nazis.'
Wrongly claims 16-year-olds can fight for their country and should therefore be able to vote.
Ms Abbott reportedly said staff at her local east London hospital who were "blonde, blue-eyed Finnish girls" were not suitable to be nurses because they had "never met a black person before".
'I sincerely apologise': Shadow Home Secretary Diane Abbott says sorry for breaking the law after she is caught drinking M&S mojito on a train in London.
Refuses four times on the Andrew Marr Show to say she regrets past support of the IRA.
---
The British Movement is happy to receive articles for possible inclusion on this site from members and supporters across the North of England. Please remember that we have to operate within the laws of this country – we will not include any content that is against the current laws of the United Kingdom. News reports should be topical and be relevant to the regions covered by this website.