This website has reported many times on the hotels in the north of England that are being used by the Home Office to house so-called asylum seekers. BM activists have joined in pickets of these hotels, mainly belonging to the Britannia and Hilton chains.
Anger amongst our people has risen after long-standing bookings have been terminated, special events such as weddings, christenings and Christmas celebrations cancelled, all with little or no notice given to the people affected. Brides have been left distraught after they've had to try and re-arrange their wedding reception at the last-minute.
The True Costs To Taxpayers
According to Migration Watch: "In 2019 (coincidentally the year that boat crossings started to reach significant numbers for the first time ever) the government signed seven regional contracts with private sector companies for asylum accommodation and transport. These contracts have a combined value of more than £4.5 billion over 10 years. However, the cost of providing hotel accommodation to asylum seekers goes well over and above these contracted costs."
"Statistics released by the Home Office in August 2022 showed there to be a record of more than 116,000 people, including an estimated tens of thousands of failed asylum claimants, who are receiving taxpayer-funded handouts. Of these, nearly 80,000 are understood to be housed in longer-term dispersal accommodation (with an estimated cost of more than £550 million per year), usually in flats around the country. This portion of accommodation provision is separate from and in addition to asylum hotel costs."
The amounts of cash just two of these 'providers of temporary accommodation' are making is eye-watering.
Stay Belvedere Hotels Ltd
The Directors of Stay Belvedere Hotels Ltd (SBHL), have been raking in the cash from these lucrative Home Office contracts since 2021. Although the Stay Belvedere chain has over 50 hotels and operates mainly across the South, South East and South West of the UK, it is a good indicator of the changing fortunes of their greedy owners.
The SBHL accounts show that they were in the RED up until the peak of the migrant 'invasion' (Bravermans words) in 2021 and have made absolutely millions renting hotels and accommodation out to the Home Office since then.
'Stay Belvedere Hotels is a specialist hotel and residential service provider for accommodation and guest services to clients throughout the UK. Our multi-disciplinary teams are recruited and trained to deliver bespoke guest services that don't just meet, but exceed the expectations of our clients. Given this expertise, SBHL has become a leading provider of the UK Government's provision of temporary accommodation for those seeking asylum in the UK.'
Nice Work If You Can Get It
The Conservative MP for Reigate, Crispin Blunt, is a member of the 'Oversight Board' for the SBHL chain and earns £15,000 a-year working for them part-time. In fact he only works 128 hours per year, which is equivalent to £117.18 an hour, or nearly £940 for an 8-hour day. This is in addition to his 'work' as an MP for which he is paid handsomely.*
*The basic annual salary for an MP from 1 April 2022 is £84,144. MPs also receive expenses to cover the costs of running an office, employing staff, having somewhere to live in London or their constituency, and travelling between Parliament and their constituency.
Clearsprings Ready Homes – £28million Profit in 2021
The managing director of Clearsprings Ready Homes, which makes a fortune housing migrants, has just spent £1.1million on a plush Scottish mansion. Former army major James Vyvyan-Robinson, 64, and his wife Nicola splashed out on their new sprawling property in Perthshire.
The company raked in £28million of profits last year. It is contracted by the Home Office to run hotels and other accommodation for asylum seekers. But some sites – such as Napier Barracks in Folkestone, Kent – have been dogged by criticism. When Covid struck, refugees protested about sharing with those who were infected.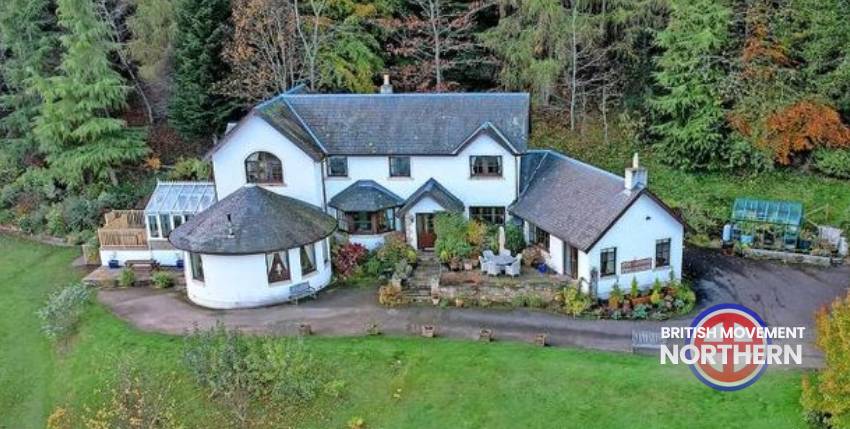 Another Clearspring camp – Penally in Pembrokeshire, Wales – was closed in March. Inspectors found it was "rundown and unsuitable", lacked Covid protection and fire safety. They also found residents' mental health was deteriorating. Poor conditions have been exposed at other Clearsprings sites, including 18 flats in Uxbridge, west London, which were found in January to be rife with damp, mould, water leaks and pest infestations.
Last October, the firm was ordered to pay more than £60,000 in fines and costs at Newport Magistrates' Court. Offences included operating a house of multiple occupancy without a licence and failing to ensure firefighting equipment and that fire alarms were maintained in good working order.
---
The British Movement is happy to receive articles for possible inclusion on this site from members and supporters across the North of England. Please remember that we have to operate within the laws of this country – we will not include any content that is against the current laws of the United Kingdom. News reports should be topical and be relevant to the regions covered by this website.