BREAKING. The Hatter's Hotel, Skegness has twice REFUSED to allow their hotel to be used as an asylum hostel. According to the owners of the hotel, they have been offered an "obscene amount of money" to accept asylum seekers.
Once called the Crown Hotel, Hatter's Hotel is situated in the quieter part of Skegness, with its golf course and nearby bird sanctuary. It is also next to the beach.
Owners Mrs Dee Allan and her husband Gary purchased the hotel 18-months ago. Since then, they have built the business and have regular live music, quiz nights and a pool team. And then in September 2021 came an offer many wouldn't have refused. They were offered an "obscene amount" to close their hotel to paying guests.
In fact Mrs Allan was offered £10,000 a week to close her hotel and house 52 refugees for at least three months – but refused as she believed it would have a "negative" impact on the area. The same "obscene" offer was made again in October this year, but again she declined. Mrs Allen, 35, said: "We said at the time that we would never, ever, do that to the community."
"Thank you all for your support. We believe things are going to get a whole lot worse. This is an elaborate plan that some can't even comprehend what is about to happen! BIG THINGS ARE GOING DOWN!"

Hatter's Hotel
How refreshing to see somebody putting principles before profit. The difference between the Hatter's and most of the other hotels who have accepted the money is that the Hatter's Hotel is locally owned by people who care. The other hotels have no connection to the local area and are owned by hotel chains that couldn't give two hoots about Skegness, Blackpool, Bridlington, Carlisle, Preston, Leeds and all the other places that are now refugee hotels.
A message from the hotel on their Facebook page.
"We would just like to thank each and every one of you for your unconditional support!! We can't quite believe how many of you there is! We've had an unreal amount of calls, messages and comments. We never expected this to happen from us just simply doing what all hoteliers should be doing as the right thing to do! Regardless of anything, we will NEVER surrender! Offer us all the money in the world and the answer will still be 'NO!' We will die morally correct with a smile on our faces. We're sorry we can't respond to all of you, but just know that you are all so so much appreciated. Thank you from the bottom of our souls."
If you are ever in Skegness, make sure you try and book your stay in the Hatter's Hotel. You can be assured of a warm British welcome from owners who put principle before profit. Mr & Mrs Dee, we salute you.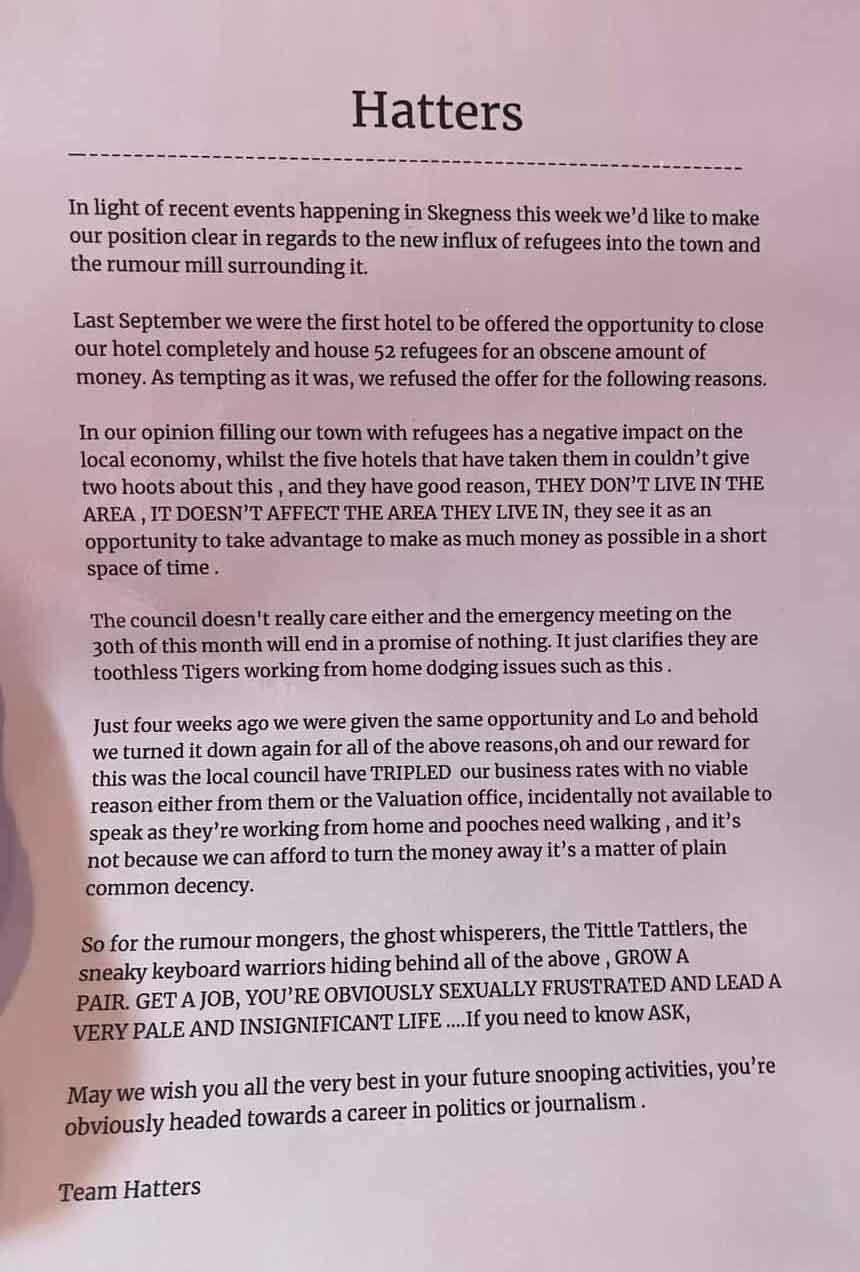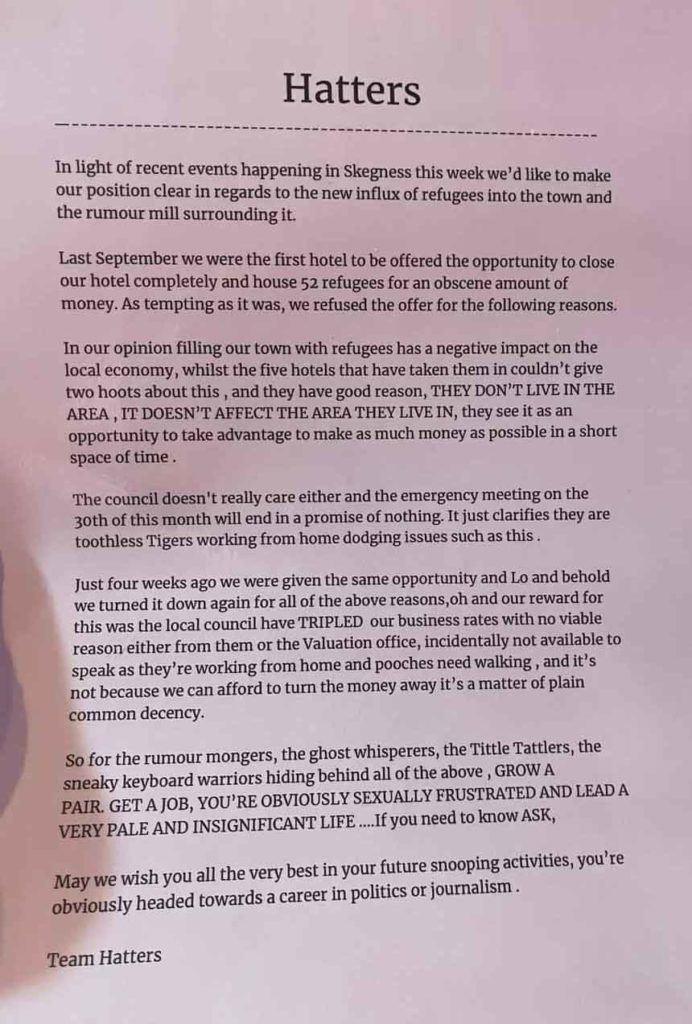 ---
The British Movement welcomes articles for possible inclusion on this site from members and supporters across the North of England. Please remember that we have to operate within the laws of this country – we will not include any content that is against the current laws of the United Kingdom. News reports should be topical and be relevant to the regions covered by this website.