Another reason why Britain should not accept Cross Channel 'asylum-seekers', aka illegal immigrants.
On Sunday, October 15th 2023, Terrence Carney, a 70-year-old pensioner, was stabbed to death as he used a cash machine on Tees Street in the town centre of Hartlepool.
So far there has been no full explanation of why Terrence Carney was killed, but local police were quick to make an arrest. The killer was a 44-year-old Moroccan asylum-seeker, Ahmed Alid, who was living in a shared house in Wharton Terrace, Hartlepool. He was quickly removed to be held in police custody in Middlesborough.
The obvious racial/ethnic nature of the killing of Terrence Carney motivated a rapid response by Counter-Terrorism Policing North-East.
In an amazing turn of investigative speed, the murder was declared to be "an isolated attack". Press statements were issued by both Cleveland Police and Counter-Terrorism Policing North-East.
Police searched the Hartlepool address where the defendant had been living on Sunday and Monday and were making the long-distance court appearance on Tuesday! This must be a record for bringing a case to court.
Obviously keeping one eye on local feelings about the housing of 'asylum-seekers and migrants' in the town and the sudden impact of the war between Israel and Hamas, which was motivating Islamist groups across the world, the official police statement to the media was very carefully worded.
"We are satisfied that this was an isolated incident and are not seeking anyone else. We are grateful for the understanding of the community during this investigation, which has caused understandable concern among local people."
Although the defendant Ahmed Alid was being held in custody in Middlesborough, he was remanded in custody at Westminster Magistrates Court in London. Ahmed Alid appeared in court via video link from Middlesborough. He was remanded further to appear at the Old Bailey on Wednesday. He was charged with the murder of Terrence Carney and with the attempted murder of his housemate, Javed Nouri, a fellow 'asylum-seeker'.
Local people in the Wharton Terrace area of the town told media reporters that the end terrace house was housing four asylum-seekers, including both the defendant Ahmed Alid and his first victim, Javed Nouri.
The story released to the public is that on Sunday morning, October 15, at 5.15 am, Ahmed Alid was involved in a fight with his housemate Javed Nouri, Ahmed Ali stabbed Nouri several times, causing wounds to his chest, legs and mouth. None of the wounds were fatal, but Nouri was taken to hospital and is undergoing treatment.
Ahmed Alid then left the property and walked into the town centre, a walk of roughly half a mile, where he then attacked Terrence Carney and stabbed him in the chest and neck. Mr Carney died at the scene.
Given the present sensitive situation around potential Islamist terrorism, the unprovoked murder of a Hartlepool pensioner by a North-African migrant easily explains why counter-terrorism police were so rapidly involved.
However, even if this is not a terrorist-related killing, this is not the first, and we suspect that it will not be the last murder to be committed by one of the 'asylum-seeker' population, currently being housed across the country.
British Movement Northern region cannot help but be suspicious about the carefully worded police statement to the news media, with such emphasis given to it being "an isolated attack", and the almost dismissive phrasing, "understandable concern among local people". Given the rapid turn of events, the good citizens of Hartlepool have scarcely had time to express their concerns. We wonder how much notice local people were given before 'asylum-seekers' were housed on Wharton Terrace?
The police media statement had all the hallmarks of being concocted by some civil servant at the Home Office, with prime concerns about 'community cohesion' as the motivation.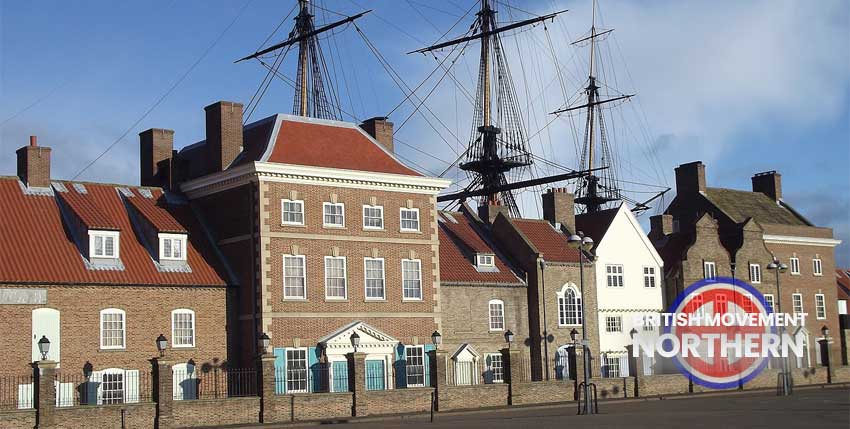 Resources:
Top Image: Google.
Lower Image: Historic Hartlepool Quay – ianpudsey, CC BY 3.0, via Wikimedia Commons.
---
The British Movement welcomes articles for possible inclusion on this site from members and supporters across the North of England. Please remember that we have to operate within the laws of this country – we will not include any content that is against the current laws of the United Kingdom. News reports should be topical and be relevant to the regions covered by this website.