The recent protests across Ireland opposing the policy of putting young economic migrants in hotels has turned the spotlight on an organisation that has long pretended to be standing up for the working-class: Sinn Féin.
Recent election results have shown an increase in their support, both in Northern Ireland and the republic. Anger at the ruling elite has increased support for Sinn Féin, with polling predictions suggesting the they could actually top the poll at the next election.
Unfortunately for them, the forced diversity imposed by Brussels and the Irish government have ripped the mask away from this 'Nationalist' party in the eyes of many working-class Irish men and women. And now the anti-migrant protests have further dented their support among their natural demographic.

In the video below, one real patriotic nationalist stands up to the entire Sinn Fein contingent at Saturday's #Ireland4All protest. "Sinn Féin are traitors, Sinn Fein are cowards."
Nationwide anti-immigrant protests, led by local people bearing the banner "Ireland is Full", are sweeping the nation. 2022 saw 307 anti-immigrant protests; 64 have already occurred in 2023. More than 2,000 protesters took to the streets in Dublin recently in protest.
"One of the principal motivating factors behind Ireland's anti-migrant protests concerns a number of reports of migrants mistreating women and even young children. Last week, for instance, a male migrant allegedly walked into Temple Street Children's Hospital and announced that he wanted to rape children. This week, a migrant was charged by the Gardai with the sexual assault of a teenage girl."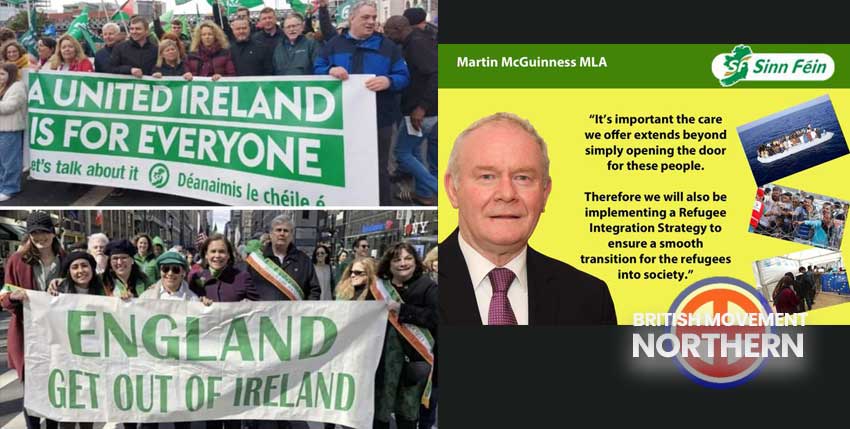 This anti-immigrant sentiment has been condemned by the Sinn Féin leadership. And the latest voting predicts have shown a drop in support for these apologists for the IRA. One of the first places to see anti-migrant demonstrations was in East Wall in Dublin. East wall is a working-class community and is also the constituency of Sinn Féin leader Mary Lou McDonald.
Residents of East Wall have accused "the media and politicians in the Dáil" of "whipping up hatred against ordinary people who are exercising their right to peacefully protest", after a car drove into protesters in the north inner city on the 15th Feb.
The East Wall Says No group said those who had "deliberately stoked up hated against ordinary people with legitimate concerns on immigration, should now take responsibility for their actions."
It was reported that the driver was recognised by those on the scene as an opponent of the immigration protests – and had attempted to disrupt protests at East Wall and elsewhere by shouting abuse through a microphone as describing the protesters as "racists".
A number of the protester's placards had a photo of McDonald with the words "Traitor" written across them (as seen in a recent BM Northern post). Similarly, protests in Finglas singled out the local Sinn Féin TD Dessie Ellis for condemnation.
"Nobody should protest outside refugee centres or hotels where people are seeking asylum. That is intimidation."

Sinn Féin TD Dessie Ellis
Amid such a politically hostile climate, Sinn Féin's anti-migrant working-class base is starting to open the door for a genuine racial Nationalist organisation to flourish. We watch the developing situation with interest.
Resources:
Top Image: Facebook – showing their true colours – IRA godfathers welcoming refugees.
Middle Image: Facebook.
---
The British Movement welcomes articles for possible inclusion on this site from members and supporters across the North of England. Please remember that we have to operate within the laws of this country – we will not include any content that is against the current laws of the United Kingdom. News reports should be topical and be relevant to the regions covered by this website.