A series of short posts on a topic close to London Mayor Sadiq Khan's heart: "Diversity is our greatest strength."
A man arrested at St James's Hospital, Leeds, intended to 'kill as many nurses as possible', Sheffield Crown Court heard. The prosecutor told the jury the defendant had a grievance against several of his former colleagues at the hospital and "had been conducting a poison pen campaign against them."
The hospital, affectionately known as 'Jimmy's' to millions, is Europe's largest teaching hospital. The maternity unit was also featured in the channel 4 series 'One Born Every Minute'.
"Seldom have so many pretended to believe something so absurd."

Jared Taylor – American Renaissance.
Mohammed Farooq, age 28, was arrested in the early hours of January 20th, 2023, outside of the Gledhow Wing, following a call to the police by a patient. The majority of the maternity services at St. James's are located in the Gledhow Wing, including the antenatal clinic, maternity assessment centre and delivery suite.
Farooq, a clinical support worker at the hospital, was in possession of a functional pressure cooker device. He subsequently disclosed to police that the bomb was modelled after one that detonated during the 2013 Boston Marathon attacks, only twice as powerful.
Jonathan Sandiford KC stated at the beginning of Farooq's trial on Monday that the defendant "had gone to the hospital to commit a terrorist atrocity and seek his own martyrdom – first, by detonating the IED (improvised explosive device) and using bladed weapons to kill as many people as possible."
Farooq sent a bomb threat to a work colleague with the intention of attacking and killing anyone leaving the hospital. He is also alleged to have planned an attack on RAF Menwith Hill, near Harrogate. Menwith Hill is home to the US National Security Agency's largest overseas spying base. The massive white golf ball-like domes can harvest data from more than 300 million emails and phone calls a day.
The case continues.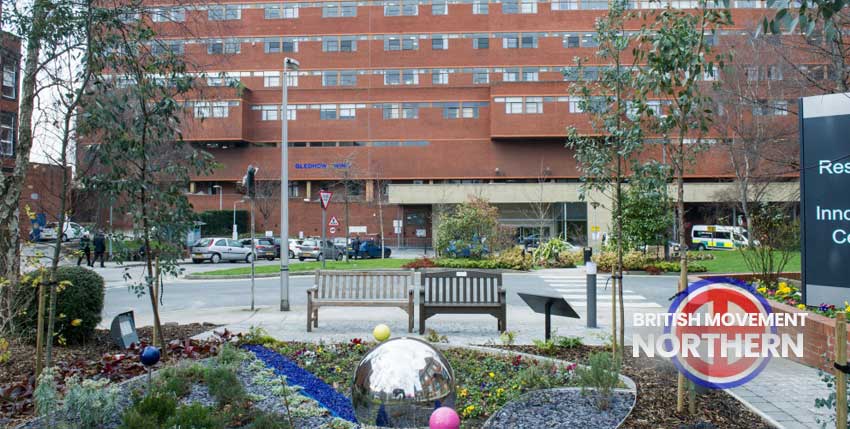 Resources:
Top Image: Chemical Engineer, Public domain, via Wikimedia Commons
Lower Image: St James's University Hospital
---
The British Movement welcomes articles for possible inclusion on this site from members and supporters across the North of England. Please remember that we have to operate within the laws of this country – we will not include any content that is against the current laws of the United Kingdom. News reports should be topical and be relevant to the regions covered by this website.