According to government research, the cost of housing asylum seekers in hotels and other temporary accommodation is set to reach £11bn a year as increasing numbers of arrivals contribute to the mounting backlog. The useless Tory Party has warned that this figure could become reality if its Illegal Migration Bill fails to become law.
It has been reported that the cost of accommodating migrants could exceed £30 million per day – up from more than £6 million per day currently. The new law will give the government powers to detain nearly all migrants who arrive in the UK illegally and quickly remove them to their home country or even Rwanda. Believe that if you will.
This 'Camp Of The Saints' style of invasion, where thousands of impoverished migrants from the Third World simply jump into small boats and make for West, was described as fiction in the 1970's and ridiculed by liberals and the left. Today that invasion has become reality and is impacting on the lives of everyone. Well perhaps not everyone.
The invasion of Britain by thousands of fit young men has had a detrimental effect on the lives of working-class communities across the land. The sheer numbers of people arriving every year (both legal and illegal) is putting pressure on the infrastructure of this country. NHS waiting lists, social housing, access to an NHS dentist etc., are all at breaking point.
To put this new eye-watering sum into perspective, here are a few publicly-available figures needed to 'fix' a number of pressing issues:
Fixing NHS waiting times could cost £40bn, leaked No 10 estimates show.
NHS dentistry's effectively static budget has remained at around £3bn for the best part of a decade, with patient charges forming an ever-greater share of the total pot. Direct Government spend on dentistry was lower as the country headed into the pandemic than it was in 2010. The UK now spends the lowest share of its health budget on dentistry of any European nation.
Thames Water is £14bn in debt and struggling to keep afloat. Another Thatcher privatisation success story.
The cost of meeting the nurses' pay award has been estimated by ex-Monetary Policy Committee member Andrew Sentance as £2.6 billion. The government has claimed it would cost £10 billion to pay the same increase across the NHS.
Prince William, the Prince of Wales has announced a scheme worth £3 million from the Royal Foundation, his and his wife Kate's charitable organisation, to tackle the issue of homelessness.
We do not have an obligation to take in these economic migrants. They have passed through numerous safe countries to reach Britain. We are seen as a soft-touch, with liberal lawyers falling over themselves to offer them legal representation to avoid deportation. All at the poor tax-payers expense of course.
The time is coming when we are going to have to pull-up the drawbridge and put our people first. We have no available homes for our people. Our Health Service itself is sick. People here are less likely to survive treatable conditions, such as breast cancer and stroke, than in any other developed country apart from the US. We have one of the lowest numbers of hospital beds per capita. The list goes on.
There is an anger building up within our people over what is being done in their name. Working people up-and-down the country have had the blinkers ripped away. And what they are seeing is not to their likening. Our opportunity is coming, we must be ready.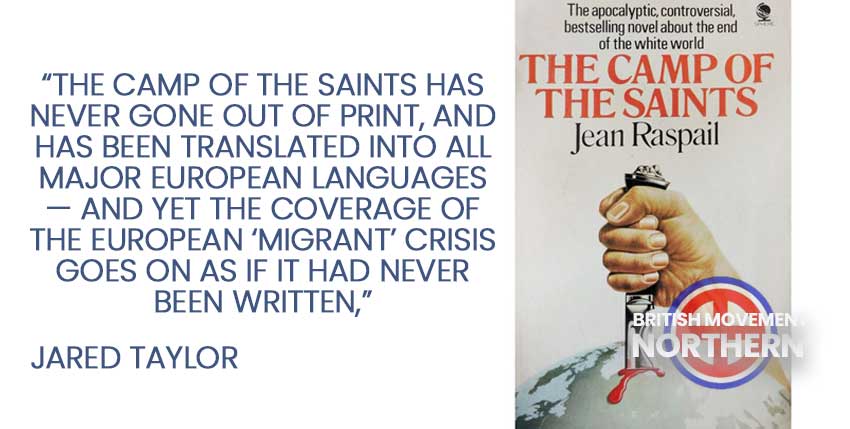 Resources:
Top Image: Photo by Imani on Unsplash.
Bottom Image: Book cover.
---
The British Movement welcomes articles for possible inclusion on this site from members and supporters across the North of England. Please remember that we have to operate within the laws of this country – we will not include any content that is against the current laws of the United Kingdom. News reports should be topical and be relevant to the regions covered by this website.