For years a city at the forefront of racial justice and multiculturalism, Bradford is now home to a leading campaigner for transgender rights and is fast becoming a bastion for DEI – 'Diversity, Inclusion and Equity'.
Bradford resident 'Ms' Saorsa-Amatheia Tweedale is the official 'transgender ambassador for the Department of Work and Pensions (DWP). Tweedale is also the Director at Bradford LGB&T Strategic partnership in Bradford and apparently also the National Diversity Ambassador for the Civil Service.
At first glance this writer was uncertain of exactly who or what he was looking at, it was not a pantomime dame but – the Civil Service Diversity Adviser. Certainly this writer is prepared to bet that 'Saorsa-Amatheia' was not the given name on Tweedale's original birth-certificate.
In the closing months of 2020, the period of November 13th to November 19th 2020 was apparently 'Transgender Awareness Week' (who knew?). So on November 17th 2020, in recognition of this nationally important awareness week, the corporate organisation Gaterby Sanderson broadcast on the internet an interview between 'Ms Saorsa-Amatheia Tweedale' and Jade Beckles, their organisation's Diversity and Inclusion Adviser.
Jade Beckles is a 'woman of colour' and prior to scaling the dizzy heights of diversity and inclusion, had spent over 16 years as a police officer, including time as a detective in Cheshire Police (Cheshire Constabulary). Watching the on-line interview between Jade Beckles and 'Ms' Tweedale was a cringe inducing experience of 'woke progressive' attitudes and the trotting out of well-practiced cliches and social justice jargon and mutual ego preening.
Ms Tweedale (yes that is the preferred title), was recently reported in an article in the 'Daily Mail', Thursday June 1st 2023, to have called on her trade union to, "work with anti-fascist groups to show what genocide can look like within the anti-trans narrative" (phew!).
Apparently, according to this 'transgender ambassador', that what are termed by the woke lobby "gender critical campaigners" (people who believe that biological sex cannot be changed and who believe that a person is born either male or female and that is how nature intends it to be), are in fact "genocidal".
Ms Tweedale bases this claim on observing media news reports about so-called 'gender critical rallies' which were held in cities in Australia in April and May 2023. News footage showed the presence of some 'Far-Right activists who were giving "Nazi salutes" and speakers at the rallies gave "statements of a genocidal nature" as part of their "anti-trans narrative."
Of course not all civil service trade union members are in agreement with statements made by their 'Trans-gender Diversity adviser', one civil servant interviewed by the 'Daily Mail' stated that, "The use of genocide to describe belief in sex being real is an insult to the victims of actual genocide". But of course, for anyone who has actually read through the assorted public statements issued by the various individuals representing LGBTQ+ and Transgender campaign groups, exaggeration and hysteria, not reality are the underlying themes of their speeches, interviews and broadcasts.
Moreover, there is considerable resistance from established feminist organisations and at least one of the leading feminist websites has been outspoken in its condemnation of 'Ms Tweedale', refusing to refer to Tweedale as "Ms" and always classing the Bradford trans-advocate as "He" or "Him".
The infiltration of the civil service, local government, education, NHS and academia by gender-identity activists are now being matched in the corporate business world, the banking and finance sector and the mainstream media. The 'woke progressive' agenda on diversity and inclusion is accelerating to new levels and board room executives and senior levels of management are afraid to challenge the ever-increasing demands to create posts for 'diversity consultants' and 'equality advisers'.
This situation has created an entirely new industry, built on the back of the example set by the race relations industry, an extensive range of training courses, for 'gender awareness' and 'inclusivity'. New job opportunities have been generated out of thin air for a whole range of executive directors, of trainers and educators all specialising in the new policies on inclusion and diversity.
It is now a growing business opportunity with suitable salary structures and expensively designed and produced 'training materials' and publications. As with the race relations industry that preceded it, the new 'woke, inclusion and equity' industry is costing the British tax-payer millions of pounds all in pursuit of a minority ideological trend.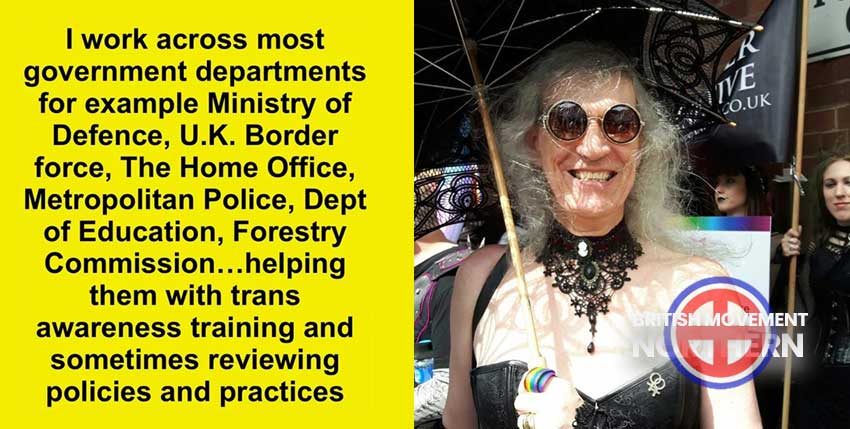 Resources:
Top Image: Taken from the list of candidates running for election to be the new Chair of the Civil Service LGBT+ Network.
Bottom Image: LinkedIn.
---
The British Movement welcomes articles for possible inclusion on this site from members and supporters across the North of England. Please remember that we have to operate within the laws of this country – we will not include any content that is against the current laws of the United Kingdom. News reports should be topical and be relevant to the regions covered by this website.