The existence of the prison gang is widely known in the United States. The largest, and probably most notorious White prison gang is the Aryan Brotherhood, also known as The Brand, Alice Baker, AB or One-Two. It was originally founded in 1964 by Irish bikers to protect themselves in the newly desegregated US prisons. Anti-white organisations have estimated that it has 20,000 members both inside prison and ex-offenders who have been released after finishing their sentence.
According to the UK Parliament website, as at the end of June 2022, just over 'a quarter of the prison population was from a minority ethnic group'. In the prison population, 27% identified as an ethnic minority, compared with 13% in the general population. A report published in 2019 revealed that Muslim criminal gangs calling themselves the "Brotherhood" operate in Britain's maximum-security prisons and use violence to convert other inmates to Islam.
The report stated that there were 13,008 Muslim prisoners in England and Wales, accounting for 15 per cent of the total jail population, with 175 serving terror-related sentences. Many Muslim prisoners join the 'Brotherhood' for protection, a sense of belonging or to further criminal activity. The group plays on fears about true 'Muslims/believers' and a hatred of 'infidels'. White prisoners have historically tended to associate mainly with a small number of close acquaintances or cell mates.
"An Aryan brother is without a care/He walks where the weak and heartless won't dare/And if by chance he should stumble, and lose control/His brothers will be there, to help reach his goal/For a worthy brother, no need is too great/He need not but ask, fulfilment's his fate/For an Aryan brother, death holds no fear/Vengeance will be his, through his brothers still here."

AB membership pledge
News that White prisoners are now banding together for protection in British prisons comes as no surprise, given the ever-rising number of ethnic minority prisoners, but this development has led to an outcry from the usual suspects. One of the 'White' gangs is called Death Before Dishonour and is concentrated in Close Supervision Centres (CSCs). In the north of England CSCs tend to be where Muslim prisoners are disproportionately represented.
CSCs were established by the UK Prison Service in 1998, as a means to segregate the most violent and/or disruptive prisoners. Death Before Dishonour first came to public attention in 2016, with the media reporting that 'a security briefing had been sent to prison governors warning them of the group's emergence'.
Charles Bronson, who was born Michael Gordon Peterson but changed his name to Bronson, was originally sentenced in 1974 to seven years' imprisonment for armed robbery. He is currently serving a life sentence. Bronson was also formerly named Charles Ali Ahmed.
Left-wing sources claim that Bronson is also a member of the Death Before Dishonour gang, after a mixed-race prisoner named Kevan Thakrar took legal action against the Ministry of Justice. Thakrar (a muslim), won his case saying that he had been systematically threatened and attacked by members of the Death Before Dishonour gang (see image below). Thakrar is said to be now planning action against officers for failing to protect him.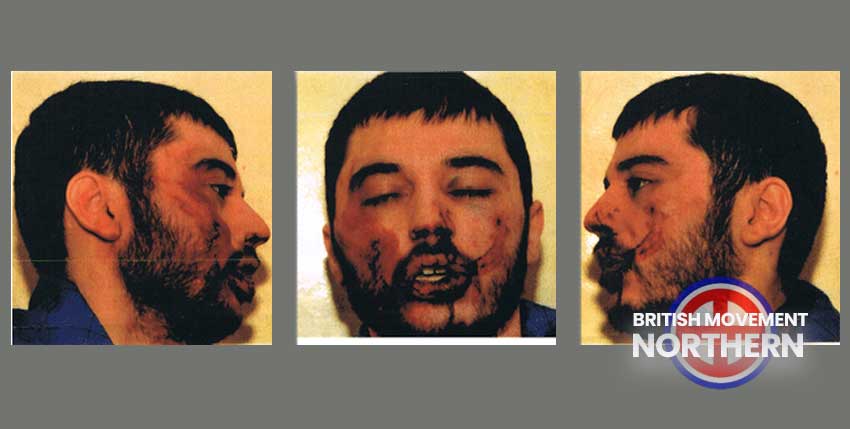 Thakrar was jailed for a minimum of 35 years after being convicted with his brother Miran for three murders connected to a 'drugs transaction'. Keith Cowell, 52, his son Matthew, 17, and Tony Dulieu, 33, were lined up and shot in Bishop's Stortford in 2007. Matthew's girlfriend and a second woman were stabbed after the ammunition ran out. The attacks on him by DBD members began in 2015 when he was moved from Full Sutton prison to HMP Wakefield in West Yorkshire.
Another Muslim prisoner, named only as 'Yusef' goes even further with his allegations about the situation in Britain's prisons. He reveals that another gang aligned with the DBD, the "Piranhas", which started life in prisons in Liverpool and Manchester, and has since spread throughout the country.
The Piranhas gang was formed by prisoners after extremist Muslim prisoners began assaulting other inmates and trying to convert them. The gang has been linked to gangland killer Chris Ashton who was handed a 32-year minimum term in 2006 for killing 21-year-old Leon Small.
The DBD gang is said to be 'mostly' White. In reality it will probably be a mixed-race group, loosely held together by a need to protect themselves from the Muslim Brotherhood.
Kevan Thakrar has become something of a poster boy for liberals and the extreme-left. A quick search of the internet brings up numerous websites demanding support for this nasty piece of work. Groups such as the Revolutionary Communist Group, Searchlight, The Anarchist Library, Black Cross Anarchists and The Guardian are all prominent in demanding better treatment for him.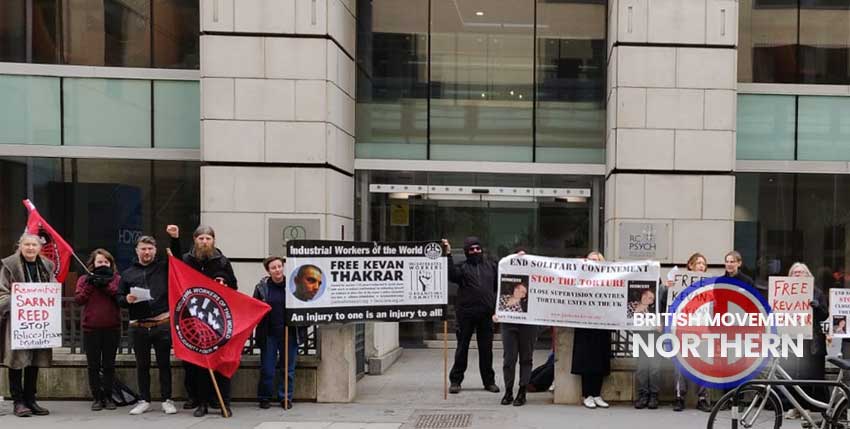 Thakrar, who is of mixed Scottish and Indian 'heritage', has been diagnosed with post-traumatic stress disorder (PTSD), allegedly caused by abuse from prison officers. He is also said to be planning action against officers for failing to protect him.
Serial compensation claimant Thakrar has made nearly 250 complaints to the Prisons Ombudsman in recent years including one that led to an £800 payout for lost or damaged belongings and £75 in a 2011 compensation case for missing milk.
In March 2010 prison officer Craig Wylde was attacked by Thakrar with a broken bottle, leaving the 32-year-old with cuts that reached the bone in his arm and causing him to lose eight pints of blood. Thakrar was found not-guilty of this offense on the grounds of his PTSD, which made him react violently when he thought that prison officers were going to attack him. Two other officers were injured in the incident.
The murderers, drug dealers, gangsters and psychopaths in the Close Supervision Centres would not be locked away without hope of release in a National Socialist folk state. And there will be no need for the CSCs under the British Movement. Monsters like Thakrar and his brother would be swinging at the end of a rope. The DBD gang, like the Muslim Brotherhood, are some of the lowest forms of life.
Roll on the Revolution!
Resources:
Top Image: Andreas Bohnenstengel, CC BY-SA 3.0 DE, via Wikimedia Commons
Other Images: Industrial Workers of the World organisation.
---
The British Movement welcomes articles for possible inclusion on this site from members and supporters across the North of England. Please remember that we have to operate within the laws of this country – we will not include any content that is against the current laws of the United Kingdom. News reports should be topical and be relevant to the regions covered by this website.