*** From an edited guest article by 'Frustrated', February 2023 ***
At a full meeting of Salford City Council in January 2023, Labour Party councillors voted unanimously for a motion to make Salford a 'Sanctuary City', to welcome more dodgy "refugees" to Salford.
In order to make their asylum claims difficult to reject, illegal immigrants routinely, and deliberately destroy their passports and identity documents so that they cannot be quickly or safely vetted in Britain. Therefore they remain a danger to vulnerable working-class communities where they are put during their long 'limbo' period of being assessed, with endless appeals against their deportations by left-wing lawyers.
As it is nearly impossible to deport them, we feel that the Labour councillors who voted to make Salford a 'Sanctuary City' should at least welcome some of the young migrant men into their own homes. This would allow their young daughters to experience the attention and cultural enrichment these dodgy migrant men lately showed to schoolgirls in the Labour stronghold of Knowsley on Merseyside.
Labour's 'Sanctuary City' policy places the economic burden, as well as the physical danger of accommodating illegal immigrants onto already deprived Salfordians and their families. It also makes housing unaffordable by driving up the demand for property. Private landlords find it more profitable and trouble free to rent to migrants instead of local folk, as they can secure long term rental contracts with tax-payer funded migrant dispersal companies like Serco.
In September 2022 the Home Office responded to Salford Council's generous 'Sanctuary City' signal by announcing a further 238 unvetted young male 'asylum-seekers' would be housed at a Salford hotel, with the location kept secret for 'public safety' reasons. This was in spite of the Home Office apology in 2021 to Salford City Council after their placement of 160 Afghan refugees in Salford led to a dangerous and expensive outbreak of TB (tuberculosis).
But the presence of unvaccinated illegal immigrant men from the Middle East and Africa causes more danger than just outbreaks of TB and other diseases. Residents near asylum hostels have accused the young migrant men of stalking or exposing themselves to young schoolgirls. In some parts of the country, these migrants seeking 'sanctuary' have been involved in rapes, thefts, stabbings and even murder.
It is no surprise that given the danger posed to local residents, the Home Office usually places these young migrant men in poorer working-class communities rather than leafy Tory suburbs.
Salford residents need to send a message to the Home Office that, contrary to what the Labour Party might declare, dodgy and bogus 'asylum-seekers' are not welcome in the city. In 2011, "The Times" exposed the story that Labour controlled councils deliberately ignored, covered-up and protected Pakistani Muslim rape gangs in order to protect their primary political project of 'community cohesion' and promoting mass immigration in order to turn Britain into a "truly multicultural" country.
The resulting scandal led Labour's then Home Secretary, Jack Straw, to comment that the sexually repressed young Muslim men were "fizzing with testosterone" and saw young White schoolgirls as "easy meat".
The latest tidal wave of predominantly young Muslim men arriving on boats as so-called 'asylum seekers' pose a similar danger to vulnerable White working-class women and girls. Yet once again, in order to promote and protect multiculturalism, Labour politicians will defend and support placing such migrants within working-class communities until their asylum claims are processed.
It seems that nothing changes and that left-wing organisations such as the Labour Party, Liverpool City of Sanctuary, Share Knowsley and Care4Calais will act against local interests by supporting mass replacement immigration and immigrant's 'rights' over the legitimate fears of concerned ordinary White working-class British people.
In Knowsley, the authorities ignored complaints, backed by video evidence, from local schoolgirls, showing young migrant men sexually harassing them.
The full meeting of Salford City Council on January 19th 2023, which voted for Salford to become a 'Sanctuary City', intends to welcome even more 'refugees' and 'asylum-seekers' to be housed and looked after within Salford.
All the Labour councillors approved the refugee 'City of Sanctuary" motion proposed by Pendelton ward Labour councillor Wilson Nkurunziza (himself a refugee from Africa) and seconded by Labour councillor for Ordsall John David Walsh. Councillor Nkurunziza said, "In Salford we have a proud track record of going above the call of duty to support refugees and asylum seekers, despite huge pressures on our own budgets and services."
Labour's 'Sanctuary City' plans will send a clear signal to the Home Office that Salford will welcome more 'refugees' and will also encourage more illegal immigrant boats to cross the Channel.
When in September 2022 the Home Office announced a further 238 'asylum-seekers; would be housed at an un-named Salford hotel, the Labour Mayor of Salford, Paul Dennett claimed that he was shocked by this news and spoke out against the plan, saying that more local authorities in southern England must accommodate these illegal immigrants instead of Salford.
Yet Mayor Dennett went on to say, "Salford is happy to take its fair share of asylum seekers – but why, when this city already houses more than four times the national average, are we being put to the front of the queue when wealthier areas in the south of England are not taking any of this pressure?"
Mayor Dennett's "shock" at the Home Office dumping even more illegal immigrants in Salford is misleading, because in January 2023, he together with other Labour councillors voted unanimously for Salford to become a 'Sanctuary City'.
In his recent speeches Mayor Dennett also welcomes the way immigrants are making Salford increasingly diverse. But he fails to mention that the Manchester Arena suicide bomber was the son of a failed asylum-seeker, or that Muslim gangs raped thousands of young women and schoolgirls across Greater Manchester, (Oldham, Rochdale, Heywood and elsewhere).
The 2021 census revealed that Salford's population has soared by 15.4% to 289,900 from only 233,900 in 2011. Moreover Labour's 'diversity drive' is changing the make-up of Salford with the number of non-whites doubling from only 23,000 in 2011 to nearly 48,000 in 2021.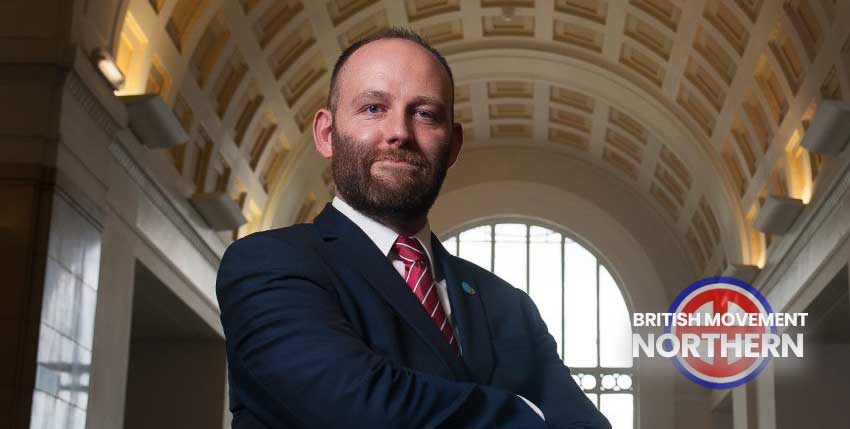 Resources:
Top Image: Local Authority 'City of Sanctuary'.
Bottom Image: Twitter.
---
The British Movement welcomes articles for possible inclusion on this site from members and supporters across the North of England. Please remember that we have to operate within the laws of this country – we will not include any content that is against the current laws of the United Kingdom. News reports should be topical and be relevant to the regions covered by this website.