In a joint day of action in Leeds on Saturday 18th September, activists from the British Movement joined up with racial Nationalists from Patriotic Alternative to hold a number of flash demonstrations around the West Yorkshire city.
This website has reported previously how a number of hotels in the area had simply closed their doors to the British public and given it over, lock, stock and barrel, to economic migrants. News then reached us that a number of other hotels had been 'commandeered' by the Home Office for exclusive use by Afghans.
These hotels included the Holiday Inn at Garforth, the Gateway Hotel at Micklefield and the Mercury at Bramham, all falling within the Leeds postcode area. The Holiday Inn, which we only reported on Sept 15th here, has now cancelled all booking until December 9th. If your special occasion was booked to take place there during those dates, tough, it's cancelled.
At short notice BM and PA organised a day of action, including leafleting, and noisy flash demonstrations outside of a couple of the effected hotels to show our disgust.
ACTION ONE
Meeting up on the morning of the 18th in Seacroft, Leeds 14, we split into four teams. Our aim was to put out a special leaflet that had been professionally designed for the day of action.
One team of 10 descended on the giant Tesco Extra shopping complex, and handed-out the leaflets to the Saturday morning shoppers, finishing off by putting any spare copies under the windscreen wipers of cars parked nearby. The Tesco Extra complex is only 500 metres from the notorious Britannia Hotel which has been picketed by us before. See our previous report on this hotel here.
Locals in the Leeds 14 area are up in arms over refugees causing problems in the Tesco Extra supermarket and had previously approached a well-known local BM activist for help.
A second team blitzed the nearby blocks of multi-storey flats, whilst two more teams concentrated on the large council estates in the vicinity. We can honestly say that we didn't have one negative reaction at the Centre, multi-storey flats or the local houses.
ACTION TWO
Rendezvousing at a local pub at 12.30 for quick refreshments (and which we had advertised on the leaflet), we were joined by three local residents from the flats, who after receiving our leaflets decided to join our protest.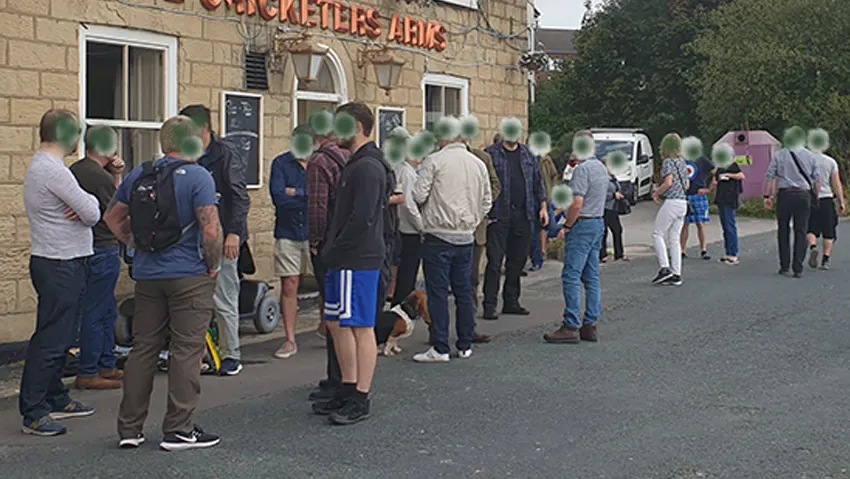 By 1 pm we were stationed outside of the Britannia Hotel nearby, scene of our previous picket and now notorious as a place filled with African economic migrants.
We unfurled our banners outside of the hotel and on the busy A64 York Road, receiving many honks of support from the passing motorists. With banners stating 'Soldiers On The Streets – Immigrants In Hotels' and 'Stop The Invasion – End Immigration', our message could not have been clearer.
The police were also out in force, including in the hotel grounds, but by and large they let us get on with our demonstration without interference. Also prominent behind the fenced-off hotel were a number of African security staff, all busily filming us. Perhaps they thought we were a bunch of white liberals welcoming them to Britain!
As is British Movement policy, we have obscured the faces of our activists/supporters in these photographs to protect their identity. BM do not give our enemies information that may lead to our people being targeted.
ACTION THREE
The third and final flash demo was decided on at the last minute. On Wednesday last we received word that the Home Office had taken over the Holiday Inn at Garforth to temporarily house some of the Afghans and their families who had worked with NATO forces.
The hotel, which has 144 rooms over two floors, an indoor swimming pool, Gym / Fitness Centre and 19 meeting rooms, has cancelled all bookings from 16/9 to 9/12. Anyone with a booking between those dates will have to try and find alternative accommodation.
Traveling to the hotel in convoy, we were greeted by a large police presence, and parked directly outside of the main hotel reception, a mobile covid testing van. Undeterred, we set up outside of the Holiday Inn's main hotel sign, facing the A63 Selby Road dual carriageway, and again unfurled our banners.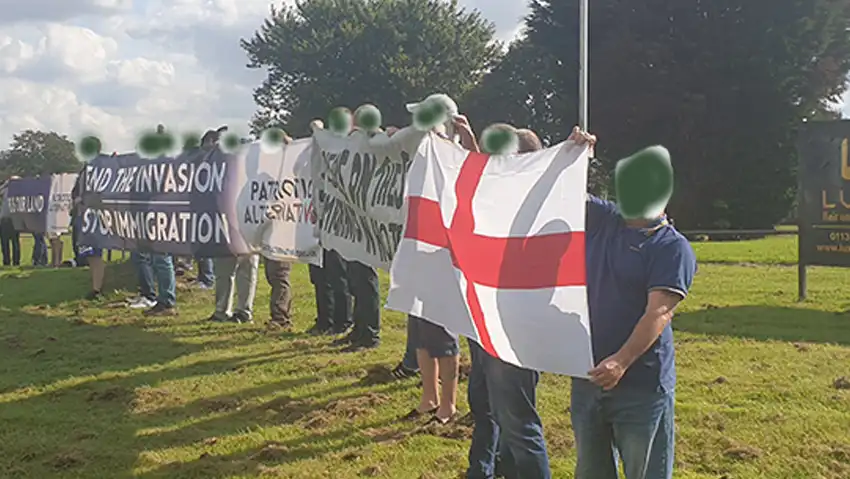 Once again the response from passing motorist was superb, with 99.9% honking their car horns in support of our actions. Only one brainwashed bourgeois marxist shouted a negative comment from the passenger window of a speeding car, yelling 'fascist ##!@@)))! to jeers from the Nationalists.
An impromptu speech from one of the PA activists ended this successful day of pan-Nationalist action.