You may be forgiven for thinking that the Communist Party of Britain (formerly the Communist Party of Great Britain), had long ago disappeared into the dustbin of history where it belongs. But during this week's Conservative Party conference, which was held in Manchester, these Stalinist dinosaurs reappeared.
Wearing the all-black uniform made infamous by Antifa, and with a red scarf hiding their spotty faces, the youth wing of the Communist Party of Britain, the Young Communist League (YCL), marched past the conference venue shouting anti-Tory slogans. These middle-class revolutionaries were escorted by police officers who seemed oblivious to the political nature of the demo and how intimidating the parade was to both the public and the many limp-wristed Tory delegates attending the conference.
The Public Order Act of 1936 prohibits 'the wearing of paramilitary and political uniforms in connection with political objects'. The public has become so conditioned by the mainstream media into believing that the threat of terrorism comes primarily from Nationalists and patriots that they could be forgiven for believing that this was another 'far-right' march. In reality, if it had been a 'far-right' march, the participants would not have been allowed to even form up before the first arrests would have been made under the 1936 Act.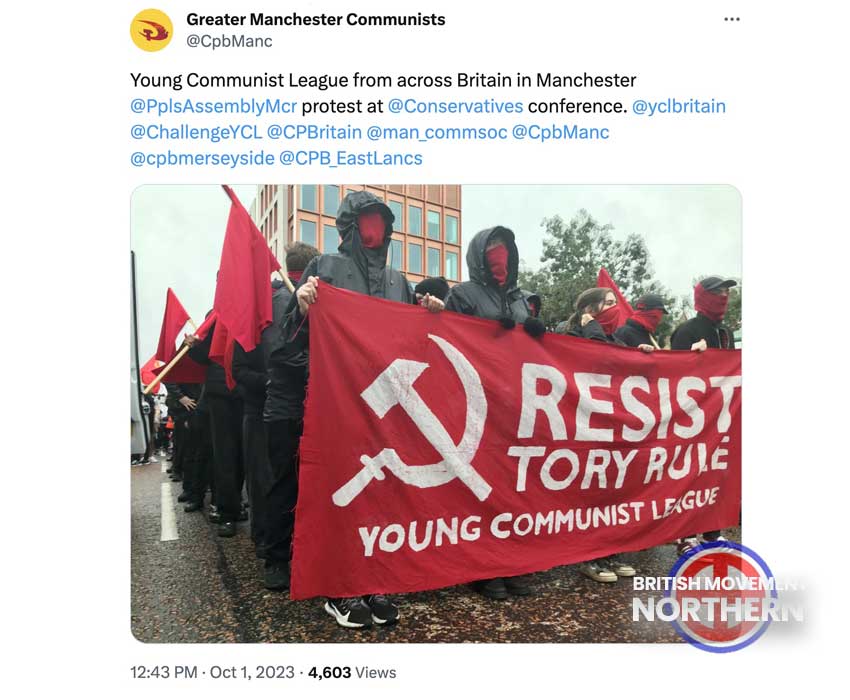 Yet here we have Marxist extremists, representing an ideology that has murdered tens of millions of people, hiding their identity with masks and dressed in an all-black uniform, parading through the streets of a major UK city with impunity. To impartial observers, it seems that Greater Manchester Police are sending out a signal publicly that laws will be enforced differently depending on which side of the political divide you are on. Shame on you.
Resources:
Top Image: Facebook.
Lower Image: Twitter.
Video: GB News on Youtube.
---
The British Movement welcomes articles for possible inclusion on this site from members and supporters across the North of England. Please remember that we have to operate within the laws of this country – we will not include any content that is against the current laws of the United Kingdom. News reports should be topical and be relevant to the regions covered by this website.