Back in August 2022, British Movement activists joined in a protest in Leeds against the 'Drag Queen Story Hour UK' tour. Originally three Story Hour events were planned for the city, but the threat of noisy demonstrations led to the cancellation of two of the 'shows', both of which were planned for libraries in the Leeds suburbs.
The only one to go ahead was held in Leeds city centre at the Central Library. As expected, supporters of the show turned out in large numbers. Gay & lesbian activists joined with the hard-left and Antifa to support the sexual indoctrination of young children. Sab Samuel runs Drag Queen Story Hour UK and is himself a drag queen who goes by the name of 'Aida H Dee'.
This website helped to expose Samuel, highlighting many of his disgusting social medial posts. Now it has also been revealed that Samuel has been raising funds for a man who was convicted of raping a boy under 16. Darren Moore (another drag queen), was found dead in an alley last January.
"Wrongful wrong! I would love to help give my boyfriend the goodbye he deserves."

Sab Samuel appealing for funds to pay for the funeral costs of paedophile Darren Moore.
Moore, formerly known as Darren Sewell, was convicted of four counts of raping a boy under 16 in South Wales as a teenager. He spent three years in a juvenile detention center and was banned from having contact with children. In 2011, he was caught working with young people as a gymnastics and dance teacher and was convicted of violating the life ban on contact with children.
He/she/it (sic) was sentenced to a three-year sex offender treatment program, a 24-month surveillance order, 300 hours of community service and a six-month electronic tagging curfew. Moore, who went by the alias Crystal Couture, then 'reinvented herself' as a drag queen and was hired by British Airways in 2018 to represent the airline on their float at a Pride festival in Brighton. Moore was found dead in Cardiff and one man has been arrested on suspicion of manslaughter.
Sab Samuel later posted on his Facebook page that Moore was "an exuberant human being, taken from the world too early," adding: "Rest In Power!"
With hindsight, perhaps those woolly-headed liberal parents who exposed their toddlers to this filth will look at this case and have second thoughts before going to an event like this again? Unfortunately we doubt it.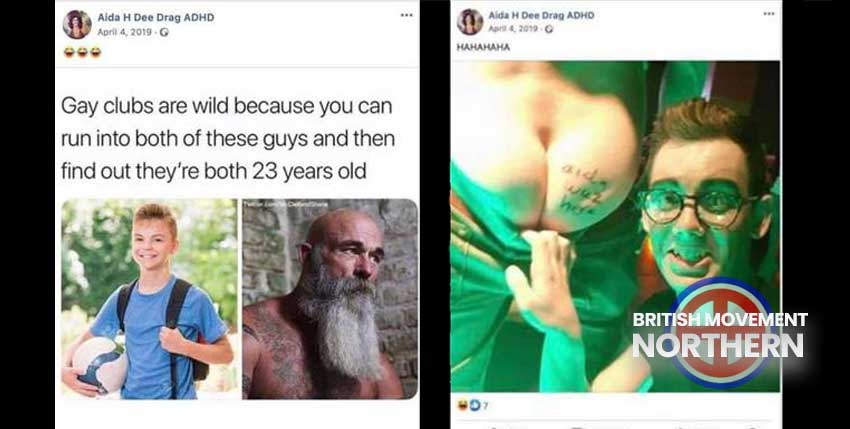 Resources:
Top Image: Photo by Jesús Boscán on Unsplash.
The British Movement Northern website has reported on the Drag Queen Story Hour previously here:
Drag Queen Story Hour Rolls Into Leeds – 07.08.22 – here>>
The Infiltration of Degeneracy: Drag Queen Story Hour – 11.08.22 – here>>
---
The British Movement welcomes articles for possible inclusion on this site from members and supporters across the North of England. Please remember that we have to operate within the laws of this country – we will not include any content that is against the current laws of the United Kingdom. News reports should be topical and be relevant to the regions covered by this website.