With one-eye on the local elections in May and the other focused on the looming General Election, the Conservative Party has today announced a new headline grabbing policy to tackle the grooming gangs who prey on young white girls. The Prime Minister is also due to meet with victims of the gangs in Leeds and Greater Manchester.
A taskforce to tackle this horrific form of sexual abuse will see specialist police working alongside members of the National Crime Agency in helping local investigations into the gangs, and new laws will increase the sentences available to judges when sentencing those who are convicted.
Downing Street has promised that the racial backgrounds of the gangs will also be recorded. Unbelievably, many forces still do not record and monitor the racial profiles of the offenders and victims. Apologists for the police forces involved blame this on political correctness and the fear of being accused of being racist.
The crackdown follows scandals in which the organised sexual exploitation of thousands of White children in towns including Rotherham, Rochdale and Telford went unchecked because politicians and the police feared being branded racist or by doing so would fuel the 'Far Right'.
In the North of England, the majority of the local councils accused of turning a blind eye were controlled by the Labour Party. Over the last few days, Labour politicians, most notably shadow home secretary Yvette Cooper, has tried to talk tough over the scandal of the small boat refugees flooding into Britain.
Blaming the problem on the Tories (who have been in power since 2010), she said Britain's asylum policy 'is broken, and it has been broken by the Tories'. Whilst we agree 100 per cent that the Tory Party can't be trusted to safeguard our borders or our children, Starmer, Cooper, Rayner, Lammy and the rest in the Labour Party cannot be trusted either.
Under Tony Blair, probably the most hated Prime Minister ever, Labour threw open the doors to mass migration in a deliberate policy to change the racial make-up of the UK. Blair wanted Britain to become more like the United States. He wanted us to become more multi-racial.
Andrew Neather, a former government advisor and speech writer for Tony Blair, Jack Straw and David Blunkett, helped to write a report in 2000 which outlined a strategy to 'open up the UK to mass migration'. The document was not published in its original format over fears of an adverse public reaction.
His claim's, in the London Evening Standard revealed that Labour's relaxation of immigration controls were a deliberate attempt to engineer a 'truly multicultural' country and plug gaps in the jobs market.
Gordon Brown, who succeeded Blair and became Prime Minister in 2007, was accused by the former North West Chief Prosecutor Nazir Afzal, of ordering police to ignore grooming gang claims in 2008. Afzal is himself of Pakistani origin.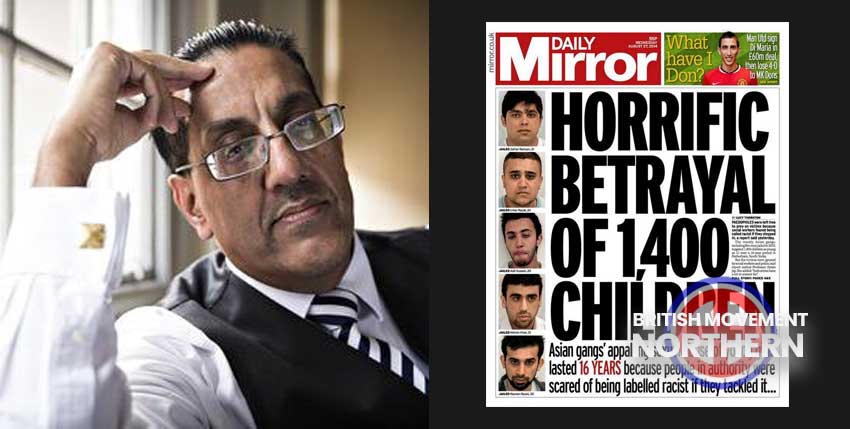 Afzal told the BBC that in 2008 the Home Office sent a circular email to all police forces calling on them to not investigate the sexual exploitation of young girls in towns and cities across the UK.
Speaking on the Radio 4's PM programme, Afzal said "You may not know this, but back in 2008 the Home Office sent a circular to all police forces in the country saying 'as far as these young girls who are being exploited in towns and cities, we believe they have made an informed choice about their sexual behaviour and therefore it is not for you police officers to get involved in.'"
Gordon Brown's 2010 election campaign was thrown into turmoil after he was caught on a Sky TV microphone calling a Labour supporter who had challenged him over the economy and immigration a "bigoted woman".
As he got into his car, he said: "That was a disaster – they should never have put me with that woman. Whose idea was that? Ridiculous." Asked by an aid what she had said, he replied: "Everything, she was just a bigoted woman." Brown later rang 65-year-old Gillian Duffy, a lifelong Labour supporter, to apologise. But the damage had already been done.
And these are the creatures who are asking you to trust them to tackle the grooming gangs and small boat invaders. Remember the victims when they come knocking on your door asking for your vote and promising to fix these issues. Our children were sacrificial lambs on the altar of multi-racialism. The sooner they are swept from power never to return will not be a day too soon.
"What we've seen is a practice whereby vulnerable white English girls, sometimes in care, sometimes who are in challenging circumstances, being pursued and raped and drugged and harmed by gangs of British Pakistani men who have worked in child abuse rings or networks."

Home Secretary Suella Braverman has highlighted the racial backgrounds of those involved in the grooming gangs.
Resources:
Top Image: Gordon Brown and wife: Andrew "Skuds" Skudder from UK, CC BY-SA 2.0, via Wikimedia Commons.
Bottom Image: Nazir Afzal: Shaanop, CC BY-SA 4.0, via Wikimedia Commons.
---
The British Movement welcomes articles for possible inclusion on this site from members and supporters across the North of England. Please remember that we have to operate within the laws of this country – we will not include any content that is against the current laws of the United Kingdom. News reports should be topical and be relevant to the regions covered by this website.